Top seed Vishnu Vardhan encountered opening round blues as he was taken the distance before putting it across unseeded compatriot Ashwin Vijayragavan in the first round of the CCI-ITF men's US $15,000 tennis tournament in Mumbai on Tuesday.
The Secunderabad-based Davis Cupper, the highest ATP-ranked player at 272 in the draw, prevailed 6-4, 5-7, 6-3 in two hours and 16 minutes.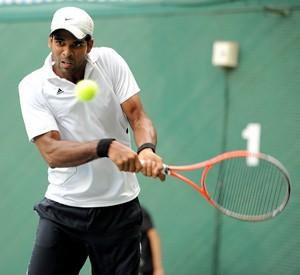 Vardhan seemed on roll as he easily won the opening set, but after leading 5-4 in the second, he went off the boil and allowed his city mate Vijayragavan to hold serve and draw abreast at 5-5.
Having gained in confidence, Vjayragavan played with more determination and broke Vardhan's in the next game before serving out the set and forcing the decider.
However, Vardhan was back to his normal self in the third set. An early break in the second game was sufficient for him to close out the match.
In the pre-quarter-finals, he will take on Crotia's Mate Pavic, who rallied to overcome India's Rakshay Thakkar 3-6, 6-2, 6-2 in an hour and 48 minutes.
In a contest between Taipei players, Jui-Chen Hung got the better of Chieh-Fu Wang 6-1, 6-4 in the day's last fixture.
Results:
Singles (1st round): 8-Ranjeet Virali-Murugesan (India) bt Reid Carleton (India) 4-1 (retired); 5-Saketh Myneni (India) bt Neeraj Elangovan (India) 6-2, 6-1; 7-Vijayant Malik (India) bt William Kendall (US) 6-4, 7-5; 2-Christopher Rungkat (India) bt Siddharth Rawat (India) 6-3, 6-1; Purav Raja (India) bt Jatin Dahiya (India) 6-1, 6-0; Mate Pavic (Croatia) bt Rakshay Thakkar (India) 3-6, 6-2, 6-2; 4-Liang-Chi Huang (Taipei) bt N. Vijay Sundar Prashanth 6-2, 6-7(2), 6-2; James Marsalek (Britain) bt Lakshit Sood (India) 6-1, 6-2; 1-Vishnu Vardhan (India) bt AShwin Vijayragavan (India) 6-4, 5-7, 6-3; Sebastian Ofner (Austria) bt Kaza Vinayak Sharma (India) 6-0, 6-4; Mohit Mayur (India) bt Peng Chih Hsueh (Taipei) 6-3, 6-2; Jui-Chen Hung (Taipei) bt Chieh-Fu Wang (Taipei) 6-1, 6-4.
Doubles (1st round): 1-Saket Myneni/Purav Raja (India) bt Anvit Bendre/Tejas Chaukulkar (India) 6-0, 6-4; Vijayant Malik/Sunil-Kumar Sipaeya (India) bt Ajai Selvaraj/Ashwin Vijayragavan (India) 6-2, 7-5; Kunal Anand/Ronak Manuja (India) bt Neeraj Elangovan/Fariz Mohammed (India) 7-5, 6-4; Mate Pavic/Nicolas Reissig (Austria) bt Sagar Ahuja/Lakshit Sood (India) 6-2, 6-3.