Malaysian-owned Caterham emerged at the head of the pack on Thursday as the first of the Formula One teams to show off their new car.
If the green and yellow CT01 was unlikely to win any beauty parade, with some branding the 'platypus-nosed' car downright ugly, technical head Mike Gascoyne was sure it would not be alone.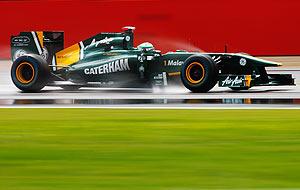 "As we're the first car out it is obviously stirring up a lot of debate, but because of the 2012 regulations I think you'll probably be seeing this type of nose on most of the cars this year," he said on the team's facebook page.
The rules have been changed to limit the height of the nosebox to try and ensure noses are not too high.
"Our challenge is that you always want to get the chassis as high as possible to allow clean air flow to the underside of the car, and what you see on the CT01 is our solution to that," said Gascoyne.
Former F1 designer Gary Anderson, now a technical analyst for the BBC, said the nose's ridges and bumps were inevitable.
"The nose on the Caterham looks pretty stupid, but everyone's going to be heading in that direction with the new rules," he said.
Renault-powered Caterham were Team Lotus last year, and Lotus Racing in their 2010 debut season.
They have yet to score a point, like the other two 'new' teams, but they have the KERS kinetic energy recovery system for the first time this year and have set a top 10 finish as a priority.
Finland's Heikki Kovalainen and Italian Jarno Trulli are their named drivers, although there has been lingering speculation about the latter's race seat. The season starts in Australia on March 18.
Gascoyne said the new car had passed all the mandatory crash tests and would be ready for the first pre-season test in Jerez, Spain, from February 7.