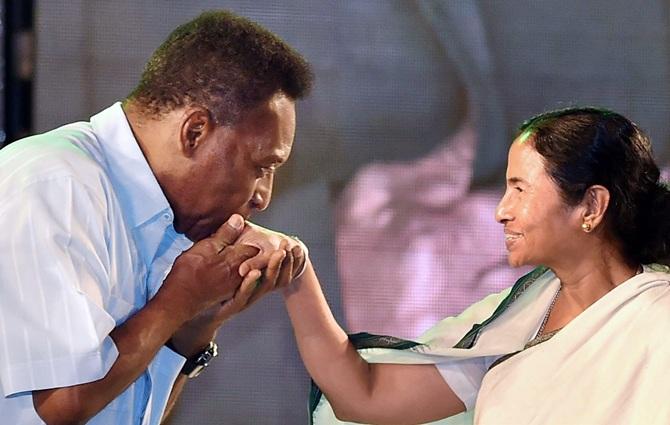 Frenzied scenes were witnessed at the airport last week when Pele landed in Kolkata after 38 years.
The 74-year-old Brazilian turned emotional and stood on the floor of his SUV and waved at the crowd, which kept chanting his name.
It was not just the layman who was enchanted by the three-time World Cup winner's presence in the 'City of Joy'.
West Bengal Chief Minister Mamata Banerjee was also equally charmed when the Black Pearl greeted her in unique fashion.
The Brazilian football legend is in Kolkata on a three-day visit; he has a host of programmes lined up before flying to New Delhi to be the chief guest at the Subroto Cup final.
Please post your tongue-in-cheek captions in the message board below.
Let your imagination run wild (READ: NOT ABUSIVE) on giving a suitable caption.
Also Read:
- 20 AMAZING facts you didn't know about soccer legend Pele
'I always played with a good heart; thank you very much'
In my team I would love to have both Messi and Ronaldo: Pele