Although the home fans will be behind them this time, neither form nor history are on the under-23 team's side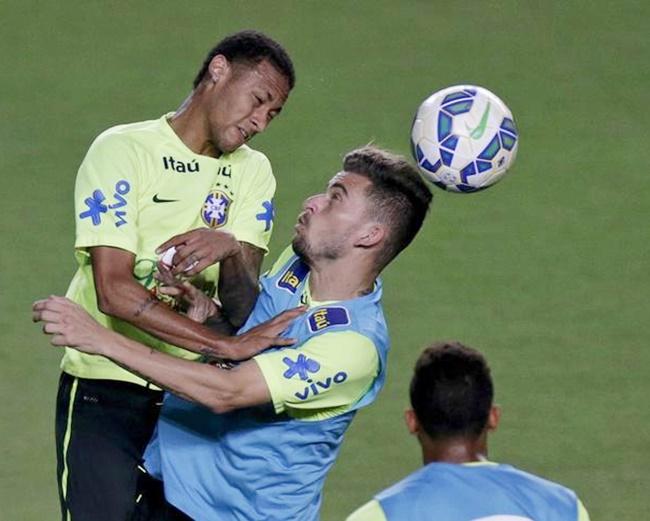 IMAGE: Brazilian soccer team player Neymar, left, fight for the ball with Lucas Lima during a training session. Photograph: /Ueslei Marcelino/Reuters.
There are 28 sports at the Olympics but many home fans will be happy if the hosts win just one as their young soccer team seek to finally secure the only international title that has so far eluded Brazil.
Brazil are preparing for the Rio Games men's tournament like never before and the pressure is on the five-times world champions, particularly coming just two years after the senior side lost 7-1 at home to Germany in the World Cup semi-finals.
Led by Barcelona striker Neymar, Brazil have the most expensive squad in the tournament and goalkeeper Fernando Prass said coping with the mounting pressure will be key to their performance.
"We have that frustration from the World Cup but we also have five world titles," the Palmeiras keeper said. "The yellow shirt carries a weight but it also puts pressure on the opposition. We have to accentuate the positive."
Although the home fans will be behind them this time, neither form nor history are on the under-23 team's side.
Brazil could only finish fourth in last year's South American qualifying tournament from which Argentina and Colombia went through but their place as hosts was safe.
And while they beat South Africa 3-1 in March, they lost 1-0 to Nigeria at home a few days earlier.
Moreover, the host team have won the Olympic gold medal only three times in 23 attempts dating back to 1908.
Brazil's biggest rivals could come from the country that beat them to gold in the 2012 London Games final.
Title holders Mexico, the only North American team ever to win the tournament, are also looking to restore some pride.
Their senior side were hammered 7-0 by Chile in June's Copa America but they will fancy their chances with Oribe Peralta, the man who scored both their goals in the win over Brazil four years ago, on duty again.
The Nordic challenge will also be strong, with Sweden and Denmark joining Portugal and Germany as the European representatives.
In the women's tournament, Brazil will look to win their first major title after taking silver in Athens and Beijing.
But they have a new look team and will hope the home fans can lift them to higher than their eighth place in the world rankings suggests.
Eight of the top 10 ranked women's teams in the world will be there in Brazil with the United States, Germany and France among the favourites.