Bundesliga restart gives hope to other leagues: Schalke's Wagner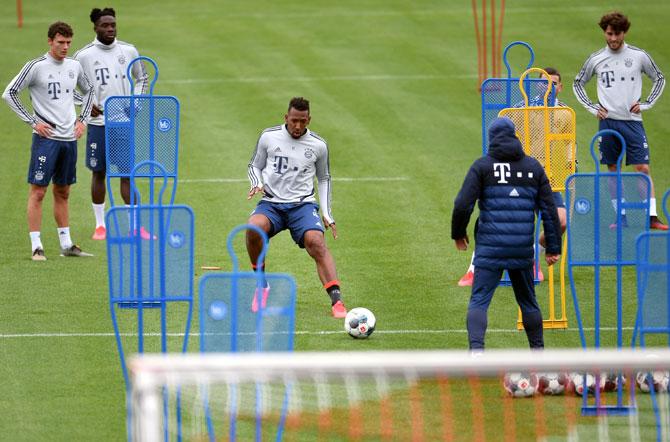 The resumption of the German Bundesliga next weekend amid the COVID-19 crisis will give hope to other European leagues that they can also successfully return, according to Schalke 04 coach David Wagner.
The Bundesliga season will restart on May 16, making it the first European league to resume amid the pandemic that has infected more than 3.95 million people globally and killed more than 270,000.
Germany's top flight will resume under strict health protocols, with no fans allowed in stadiums and several matches, including the Ruhr valley derby between Borussia Dortmund and Wagner's Schalke, taking place on the relaunch day.
"It's no surprise. The Germans are always very disciplined, looking straight forward and trying to quickly find solutions. Everybody follows rules, everything's on time, typical Germans," Wagner told The Times on Saturday.
Wagner, a friend of Liverpool manager Juergen Klopp, said his German compatriot was looking at the progress in Germany with Premier League sides hoping to play matches in June once given the green light by the government.
Liverpool are two wins away from securing their first English league title in 30 years.
"This is why everybody looks to Germany and thinks, 'OK, if the Germans can do it, we at least have a chance to do it as well'. This is exactly what Juergen said to me," he added.
"All you guys in England are praying we get the Bundesliga back up and running because this will be a hopeful sign... and that even if you are maybe four to five weeks behind, you can get it done."
Wagner said it was strange to be playing when people are dying from the virus.
"But for me personally, I say, 'OK, we have to do our job and we like to save our business as well'," he added.
Fernandes, Pogba can thrive in United midfield, says Solskjaer
Manchester United manager Ole Gunnar Solskjaer believes playmaker Bruno Fernandes and record signing Paul Pogba can form a strong midfield partnership when the Premier League season resumes following the COVID-19 disruption.
The 25-year-old Fernandes, who joined United from Sporting Lisbon in January, registered three goals and four assists in nine matches, adding creativity to the team with Pogba out of action due to a foot injury.
Pogba, restricted to eight appearances in all competitions this season, was primed to return before the campaign was suspended due to the coronavirus outbreak and Solskjaer said the Frenchman and Fernandes can thrive.
"Good players can always play together, so definitely they can... it's a big yes," Solskjaer told Sky Sports.
"I've got Scott (McTominay), Fred, Nemanja (Matic). There are many games coming up. I'm sure we can find a good connection between them. We've been discussing that as a coaching team and we're looking forward to it.
"Of course, Bruno coming in, making the impact he made, it was a boost for everyone, the club, the supporters and players. Getting Paul and Marcus Rashford (back injury) back would be fantastic."
The 20 Premier League clubs have discussed plans to resume training in May followed by a possible return to action in June, provided lockdown restrictions in Britain are eased.
United are fifth in the league with 45 points from 29 games.
Barca's Umtiti suffers calf injury in training
Barcelona defender Samuel Umtiti sustained a calf injury on his return to individual training, the Spanish La Liga club said in a statement on Saturday.
The 26-year-old French centre back has struggled with knee and foot problems in the last few seasons and Barca said there was no time frame for his return to training.
Soccer in Spain has been suspended due to the COVID-19 pandemic since March. La Liga is hoping to start matches again in June, although it has yet to confirm dates for fixtures.
Players will start to train in small groups and progress to full sessions before resuming games.
Barca lead the table with 11 matches remaining and hold a two-point lead over Real Madrid, who are due to begin training on Monday.