The Indian ice hockey team. Photograph: Ice Hockey India/Twitter
While India's money-spinning cricket league lavishes million-dollar deals on players for just a few weeks of competition, the national ice hockey team has had to go begging on social media to fund their trip to Kuwait for an international tournament.
Players often have to buy their own equipment and look for their own sources to fund trips abroad, a situation which prompted the Ice Hockey Association of India (IHAI) to start a campaign on Twitter seeking donations.
"It is so tough to push sports like ice hockey when cricket takes up all sponsor budgets. We have a national team and are begging for money," read a Tweet from the association last month.
While the country's cricket board generates riches through lucrative television deals and sponsorship, other sports rely largely on government funds and rare corporate handouts for support.
Ice hockey does not get even that.
The team need about two million rupees ($32,170) to travel to Kuwait for the International Ice Hockey Federation Challenge Cup of Asia Division I from April 18-24.
The Twitter campaign with the hashtag 'SupportIceHockey' has seen more than half the amount raised in the last week.
Harjinder Singh, general secretary of IHAI, told Reuters that the decision to turn to social media for funding was a reflection on ice hockey lowly status in India.
"We wanted to create awareness about the sport and what we go through to participate in international championships," he said in an interview.
"People are not aware that India actually has an ice hockey team. Winter sports have not got much acceptance in India, be it with the government or the corporates."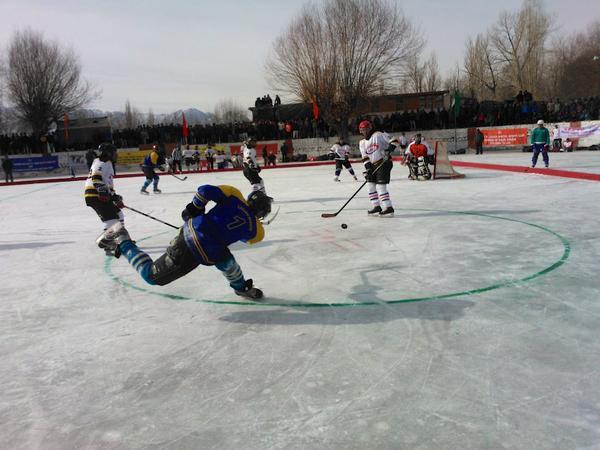 Indian ice hockey players practice for Asia Cup on Thursday. Photograph: Ice Hockey India/Twitter
While the international governing body of the sport provides India with coaches and bears their travel and other expenses, the players are left to fend for themselves.
IHAI officials used their personal credit cards to book tickets to Kuwait for the players.
The national team, who have nine players currently serving in the army, started participating in international tournaments from 2009. They are practising on an ice rink that is one-third the size of the international standard.
Though there are a number of outdoor rinks in Northern India, there is virtually no ice to skate on in the months of March and April.
The country does have an indoor rink that meets international standards but that has been closed since it hosted the IIHF Challenge Cup of Asia in 2012.
"We hosted the Asian championship hoping that it would encourage the sport in the country," Singh said. "But since 2012 no tournament has happened there and it's lying shut since then.
"There is no one who can take it up as the cost of electric supply is huge."
($1 = 62.1702 Indian rupees)