Images from Day 10 of the 2021 US Open in New York on Thursday.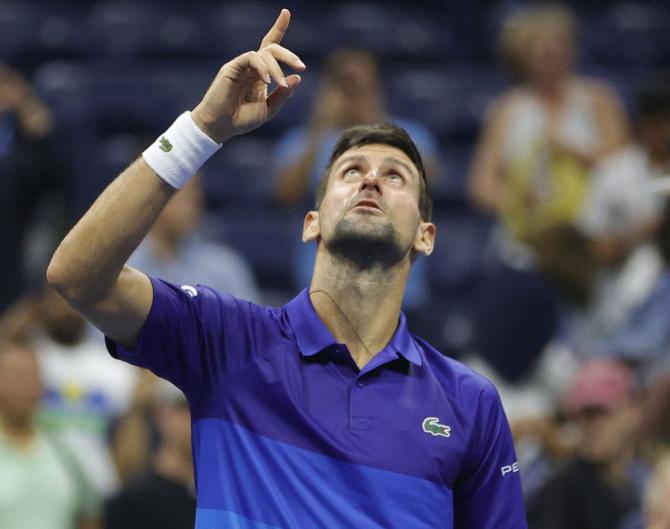 Novak Djokovic again fought back from a set down to beat Matteo Berrettini 5-7, 6-2, 6-2, 6-3 and move into the US Open semi-finals on Wednesday, the Serb now just two wins away from a 21st major that would complete a calendar-year Grand Slam.
Djokovic takes a step up in class in the next round, where he faces fourth seed Alexander Zverev, the player who last month ended his bid for a 'Golden Slam' by beating him in the Tokyo Olympics semi-finals.

Zverev arrives at the final four as the hottest player in men's tennis, extending his winning run to 16 matches by beating South African Lloyd Harris.

"He's in a fantastic form," said Djokovic. "Of course looking at his results in past few years, he's played very well here on this court.

"I know it's going to be battle, even harder than it was today but I'm ready for it.

"Look, these are the hurdles that I need to overcome in order to get to the desired destination."

Djokovic and Berrettini had met only three times previously but two were this year when the stakes were at their highest -- the Wimbledon final and French Open quarters -- with the world number one winning both times in four sets.

The 25-year-old Italian had a third shot at derailing Djokovic's Grand Slam plans on Wednesday but once again could not seize his chance, converting just one of five break opportunities, that coming in the first set.

"Really tough match, as always against Novak," said Berrettini. "He has this ability -- and probably that's why he's the best ever -- just to step up his game, his level all the time.

"Doesn't matter how well I play, he just plays better.

"He doesn't give me any free points. I have to earn every single point."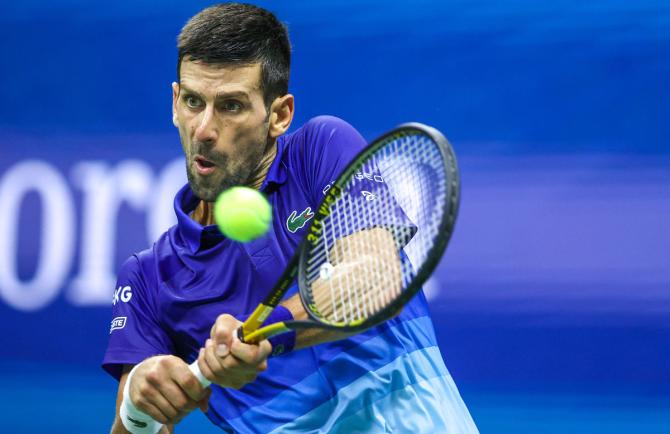 Berrettini's lone break came during a grinding opening set that lasted 77 minutes, the Italian making the breakthrough to go ahead 6-5 before sealing the opener.

It marked the third straight match Djokovic had dropped the first set.

But Djokovic had seen this before, losing the opening set to the Italian in the Wimbledon final, and in a faster paced second set it was Djokovic hitting back with the early break and going on to level the match.

"When I lost the first set I managed to forget about it, move on," said Djokovic. "In sports we talk about that a lot -- being in the zone ... very difficult to get here, very easy to go out."

Djokovic stepped up the pressure in the third, forcing Berrettini to work for every point as he clinically wore down his opponent.

He snatched control by breaking Berrettini at the first opportunity and once again to close out the third set.

A now locked-in Djokovic secured an early break in the fourth and took a 3-0 lead, playing to a cheering crowd that suddenly seemed aware they were watching something special.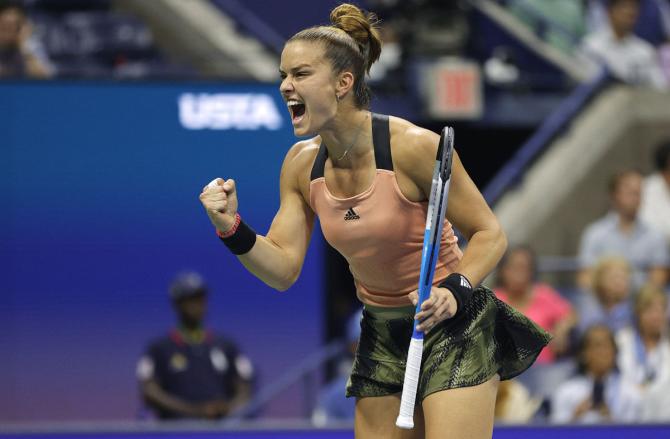 Maria Sakkari leveraged her powerful serve and excellent court coverage to reach the US Open semi-finals with a 6-4, 6-4 victory over Karolina Pliskova on Wednesday and dedicated her win to the people of Greece, who have endured a summer of brutal wildfires.
Sakkari was rock solid throughout the win on Arthur Ashe Stadium, hounding Pliskova into mistakes and getting an early break before going on take the first set.

The Greek 17th seed maintained the aggression in the second set, converting on break point in the seventh game as 2016 runner-up Pliskova failed to match her intensity.

The Czech, runner-up at Wimbledon this year, committed three double faults and 20 unforced errors in the match before Sakkari wrapped things up in one hour and 22 minutes.

Roland Garros semi-finalist Sakkari used her serve to devastating effect, winning 22 straight service points after starting the second game of the match down 0-30.

"I served really, really well," she told reporters. "I'm very happy I managed my stress level and my expectations. Especially at the end of the match, it was quite tough to close it out, but I think I did quite well."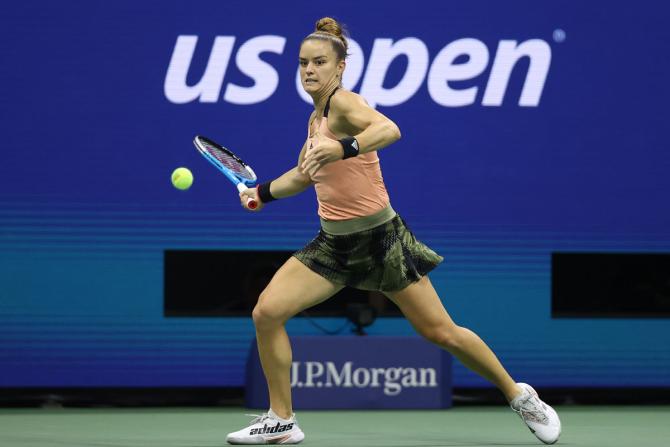 She dedicated her win to the people back home in Greece, where more than 500 fires forced the evacuation of dozens of villages and thousands of people.

"For me, winning for Greece, making Greek people proud and happy, especially in difficult times, it makes me even more happy because you know how much I love my country," she said.

World number four Pliskova came up short once again at Flushing Meadows, where she has been stopped at the quarter-final stage three times since reaching the final in 2016.

"I didn't have any chances on her serve," she said. "I don't think I played the best tennis today.

"I don't think I was serving the way I was serving the last couple matches, which you have to serve against opponents like this because she doesn't give you much for free."

Sakkari had shown no signs of fatigue despite coming through a three hour, 30 minute fourth-round battle with former champion Bianca Andreescu which wrapped up on Tuesday at 2:13 a.m. in New York, the latest finish to a women's singles match at the hardcourt major.

She will need all her energy in her semi-final against British teen Emma Raducanu, who has not dropped a set since arriving at Flushing Meadows as a qualifier.

"Emma -- she's had a great run," said Sakkari. "But I trust myself, I trust my game.

"Going deep, you won't have it easy," she added later at a news conference. "I beat some very, very good players to reach the semi-finals this time. I'm actually feeling really well. I don't want to jinx it."

Zverev eases past Harris into semi-finals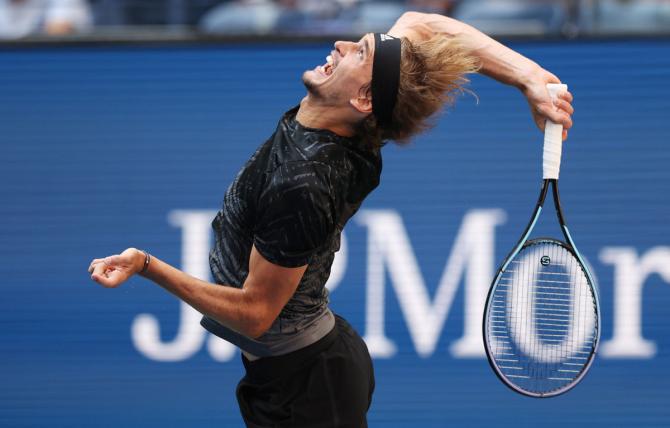 Fourth seed Alexander Zverev extended his winning streak to 16 matches by easing past South African Lloyd Harris 7-6(6), 6-3, 6-4 and into the semi-finals of the US Open on Wednesday where the German looms large as a potential roadblock to Novak Djokovic's bid for a calendar-year Grand Slam.

The victory leaves Zverev one win away from returning to a second consecutive US Open final and another shot at a first career major title after losing to Dominic Thiem last year.

Zverev will await the winner between top seed Djokovic and Italian Matteo Berrettini, who meet later on Wednesday in a rematch of the Wimbledon final.

The path to what would be a record 21st major title has become very steep for the history-hunting Serb, who must first get through sixth seed Berrettini with Zverev now waiting in the wings.

"He is the best player in the world," said Zverev, who beat Djokovic in the semi-finals at the Tokyo Olympics to end his bid for the Golden Slam (Olympic gold and all for majors). "He is very difficult to beat.

"But he's still also got to win tonight."

Harris stepped out onto Arthur Ashe stadium court oozing energy, looking as if he had performed on tennis's biggest stage many times before.

The Cape Towner had good reason to be confident having knocked out three seeds -- Olympic silver medallist Karen Khachanov (25), Denis Shapovalov (7) and Reilly Opelka (22) -- on his way to his first career Grand Slam quarter-final.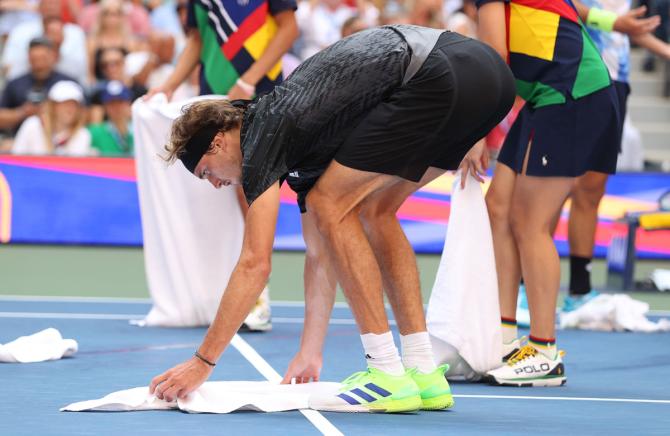 But no player in Flushing Meadows has been riding a bigger wave of momentum than Zverev, who came into the contest on a career-best 15-match winning streak, having dropped one set en route to his quarter-final.

After trading breaks, a tight opening set went to a tiebreak where Harris had a chance to grab a 1-0 lead serving at 6-5.

The 46th-ranked South African could not convert.

But Zverev would not squander his opportunity taking the next two points and the set leaving a furious Harris smashing drink bottles to the ground during the change over, spraying water all over the court and bringing out ball boys and girls for a cleanup.

Sensing an opening Zverev quickly applied the pressure in the second, breaking Harris at the first opportunity and that was all he would need to take a 2-0 lead.

Harris had rallied from two sets to one down against Olympic silver medallist Khachanov in the opening round but there would be no way back against the Tokyo Games gold medal winner, who went up a double break in the third before finishing off his opponent with a thundering ace.

An improved serve has been a major factor in Zverev's winning run and again contributed to his win over Harris as the German fired down 21 aces and won 82% of first-serve points.

"I've said it before, the serve is the shot I've spent the most time on," said Zverev. "It's the shot that I've got to practise the most.

"At some point I feel like, if you work very hard, you're doing the right things, it will come together.

"Maybe that's what's happening right now."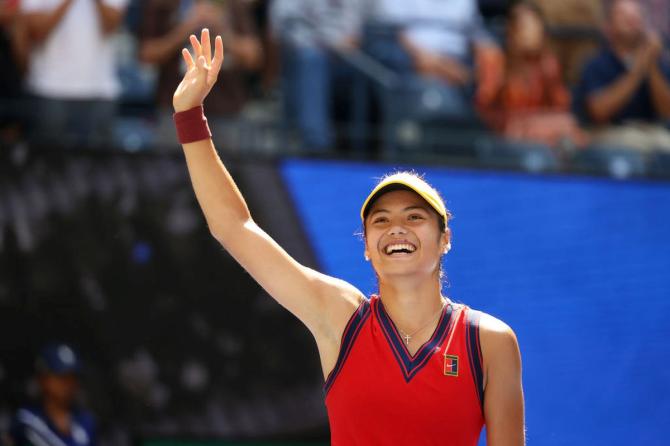 British teenager Emma Raducanu produced yet another electrifying performance to become the first qualifier to reach the US Open semi-finals on Wednesday, defeating Olympic champion Belinda Bencic 6-3, 6-4 on Arthur Ashe Stadium.

Down an early break, the 150th-ranked Briton recovered swiftly to win four straight games to close out the first set in which she had seven forehand winners and three aces.

Like Raducanu, Bencic had reached the last eight without dropping a set over the past nine days but on Wednesday she struggled with her first serve and misfired a pair of costly double faults in the opening set.

Raducanu maintained her momentum in the second set, fending off three break points in the second game.

A frustrated Bencic handed Raducanu a break with a double fault in the fifth game and her frustration boiled over as the match progressed, with the Swiss smacking her racket to the ground.

Down 0-30 in her final two service games, Raducanu kept her nerve on both occasions and soaked up the cheers of the New York crowd after triumphing in a nine-shot rally on the final point.

"Playing Belinda – she's such a great opponent," Raducanu said. "Her ball speed definitely caught me off guard because she hits the ball so hard."

The 18-year-old, who reached the Wimbledon fourth round on her Grand Slam debut just two months ago, has so far won all 16 sets she has played from qualifying through to the semi-finals.

She is the second teenager to make an impact in the women's draw this week as 19-year-old Canadian Leylah Fernandez has also reached the last four.

"To have so many young players here doing so well just shows how strong the next generation is," added Raducanu, who delighted a number of young fans by taking selfies with them before she walked off court.

"Everyone is on their trajectory. I'm just here taking care of what I can control, and it's my own journey at the end of the day."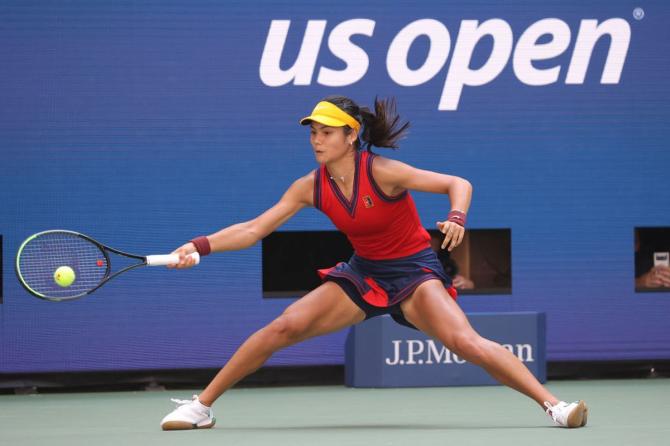 Raducanu arrived in New York after contesting three hardcourt events in the US in the run up to the season's final major, finishing runner-up at the Chicago Challenger.

Despite the packed schedule, Raducanu has shown no signs of fatigue while demolishing opponent after opponent and believes the extra matches helped her.

"They were very good for me to adjust to the hard courts, because it's completely different to the grass. You get away with a lot less," said Raducanu, who was born in Canada to a Chinese mother and Romanian father.

"After four weeks, I think that building up the levels at the tournaments, my game got better. With each higher level tournament I played, I had to raise my game."

While Raducanu's run at Wimbledon, where she played as a wildcard ranked 338th in the world, and now in New York has captivated tennis fans in Britain and the world over, she has kept her eye firmly on the job at hand by refusing to get caught up in all the hype.

"I have actually got no idea about any of the records at all. It's the first time I heard today that I was the first qualifier to make the semis (at the US Open). I had no idea before that," she said.

"I'm not here to chase any records right now. I'm just taking care of what I can do on the moment and on the match ahead. Haven't even started thinking about the next one yet."