No regrets for McIlroy as birdie blitz falls short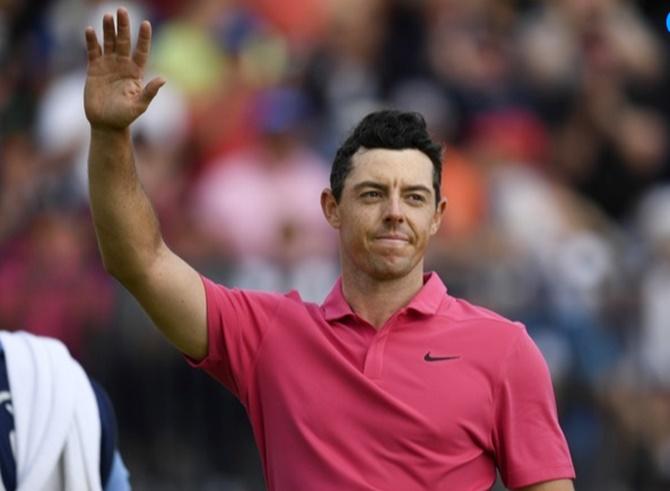 It was another case of what might have been in a major for Rory McIlroy after he threatened to deliver victory at the British Open on Sunday before settling for a tie for second place.
The 29-year-old Northern Irishman looked down and out in the closing round when bogeys at the second and fifth pushed him down the field in stiff breezes at Carnoustie that gusted up to 28mph.
However, McIlroy produced just the sort of burst he has become renowned for.
Birdies at the ninth and 11th restored his hopes before he celebrated wildly after sinking a 50-foot putt for an eagle three at the 14th.
Ultimately, though, the four-times major champion fell short after a run of four straight pars over the brutal closing holes.
"I'm not really frustrated," McIlroy told reporters after a one-under 70 left him on six-under 278 overall, two behind champion Francesco Molinari of Italy.
"I could have squeezed one more out of the round today. When I made the eagle on 14 it was tough to get close on 15, 16 and 17.
"I think anything under-par out there today was a good score. I'm happy with how I played," said McIlroy who has seven times finished in the top-10 in a major without winning since landing his last 'Big Four' title at the 2014 US PGA Championship.
"I didn't get off to a great start but I hung in there and battled back and just ran out of holes at the end," he said.
McIlroy said he was pleased to have played a minor role in a blockbuster round during which the lead changed hands several times, with former world number one Tiger Woods having a brief spell in top spot.
"It was great just to be a part of it and hear the roars," McIlroy added. "Tiger being back in the mix, everything, there were a lot of big names up there.
"For a while I thought Tiger was going to win. My mindset was go and spoil the party.
"I have no regrets. I played the way I wanted to play this week. It gives me a lot of encouragement going into the final major of the year (at next month's U.S. PGA)."
Rose proud after almost pulling off miracle comeback
Justin Rose was a proud golfer after coming close to pulling off one of the greatest comebacks in major championship history at the British Open on Sunday.
The 37-year-old Englishman needed to hole a nerve-shredding 14-foot birdie putt in Friday's second round to avoid missing the halfway cut but, galvanised by his narrow escape, he ended on a high with closing rounds of 64 and 69.
"It just proves to me I can play well in this tournament, that I can win the Open," world number three Rose told reporters after a six-under aggregate of 278 gave him a share of second place, two strokes behind winner Francesco Molinari of Italy.
"When I'm in the hunt I enjoy it. I play my best golf. I don't back away."
Rose thanked the Scottish galleries for helping him to surge through the pack over the weekend.
"It was great to get the crowd behind me," he said. "I hadn't felt the energy of the crowd for a while in the Open.
"That was a real positive for me and it renews the love of the Open for me."
Rose, still waiting to add to the one major victory he has claimed at the 2013 U.S. Open, ignited his challenge for the Claret Jug when he eagled the par-five 14th.
A radar-like approach shot to the 18th then left him a six-footer for a birdie and, after the ball nestled in the cup, he turned and hailed the applause of the huge grandstand.
"After birdying that hole all four days, it has to be right up there for me now," said Rose.
"Today it wasn't really playing that bear of a hole that it can. Yesterday I hit driver, 5 iron, which is more the Carnoustie 18th hole that we know. I feel like I birdied it all ways, which makes it special."