Unheralded South African Louis Oosthuizen stands on the brink of a first major victory on Sunday after finishing the third round of the British Open with a healthy four-shot cushion.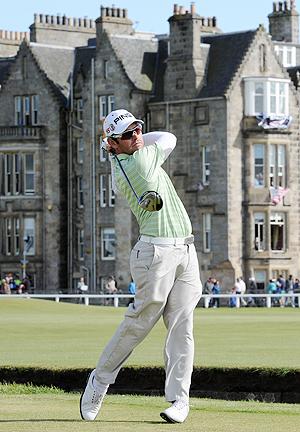 The 27-year-old protege of compatriot and three-times major winner Ernie Els leads World No 10 Paul Casey, who is three strokes clear of German Martin Kaymer, after a third consecutive round in the 60s on Saturday.
Rarely are such big margins found in majors.
Oosthuizen's five-shot lead going into the third round was the biggest in the British Open since 1982, and it will take a big swing for him to relinquish his advantage given his control over three rounds so far at the Old Course.
Unfortunately for the South African, nicknamed 'Shrek' after the cartoon ogre by his friends, Casey is the kind of player who can suddenly burst into life as the Englishman showed on Saturday with a blistering front nine of 31, five-under par.
But Casey, back to his best after a niggling rib injury, is looking forward to his day alongside Oosthuizen.
"I get along great with Louis, as well. So I think it is going to be a lot of fun, as well," he said after his joint best of the day 67 on Saturday.
England's Lee Westwood, Sweden's Henrik Stenson and Spaniard Alejandro Canizares are on seven under while even Tiger Woods is out of range after a one-over 73 left him 12 shots adrift of Oosthuizen.
The final round starts with Woods teeing off with fellow American Lucas Glover  and the leading pair the last to head down the first fairway.