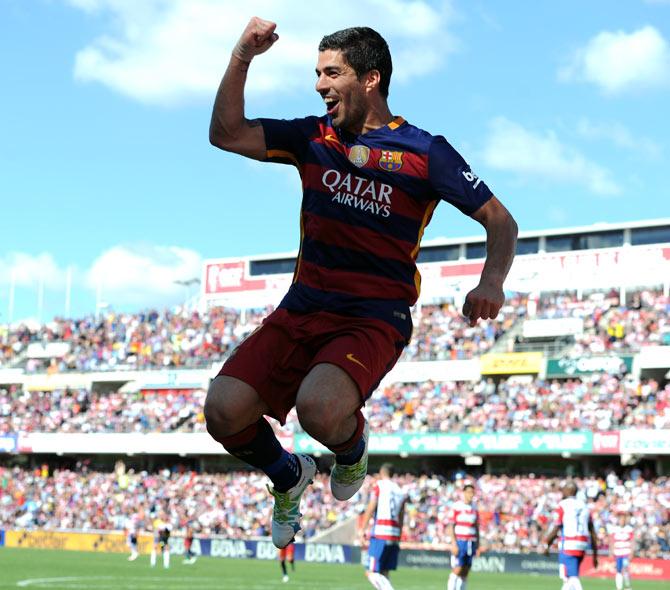 IMAGE: Luis Suarez of Barcelona celebrates scoring his team's second goal during the La Liga match between Granada and Barcelona at Estadio Nuevo Los Carmenes on May 14, 2016. Photograph: Denis Doyle/Getty Images.
Luis Suarez has progressed from his impressive debut La Liga campaign to produce the most prolific season of his career and fire Barcelona to a second straight title, free of the stigma of his ban for biting which accompanied him to Spain in 2014.
It was fitting that the Uruguayan should score a hat-trick in the comfortable 3-0 victory at Granada on Saturday to clinch the title, taking his tally to 40 goals in 35 games.
He is the first player other than Cristiano Ronaldo and Lionel Messi to finish as La Liga top scorer since 2009 but his contribution to Barca's title triumph goes beyond his goals and 16 assists.
For Suarez is the hardest working of the feted 'MSN' partnership he forms with Messi and Neymar, a trio who have delivered 90 of Barcelona's 112 league goals.
He is also the most willing to close down opponents and run into space and, naturally, he has shown himself to be the player who is keenest to throw himself into any physical battle.
"What Luis Suarez does for us -- not just his goals, but his work and character -- is why we decided to sign him," said Barca manager Luis Enrique.
"There is no other forward in the world like him. He is a vital player for us."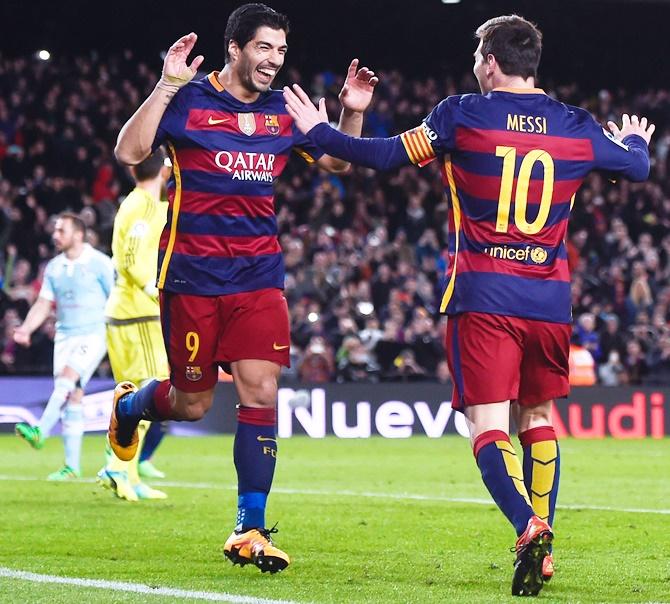 IMAGE: Barcelona's Luis Suarez, left, celebrates with his team mate Lionel Messi. Photograph: David Ramos/Getty Images.
Suarez's first season at Barca almost inevitably suffered a hesitant start following his return from a four-month ban for biting Italy's Giorgio Chiellini at the World Cup.
It was not until the end of that year that he began to really click with Neymar and Messi to devastating effect and help Barcelona land the treble.
His ban may have had a positive effect for his second campaign, though, as it prevented him from playing in the Copa America and kept him fresher for the start of the new season.
With Messi missing for two months with a knee injury and Neymar's form dropping dramatically in the final two months, Suarez has been the most consistent of the three attackers. He has also played more minutes than any Barca player.
"He's very busy, he's running everywhere, always finding spaces to run into and trying to finish. He's a handful, and so clinical," said Barcelona defender Thomas Vermaelen.
Ever since scoring in a 1-0 win at Athletic Bilbao in Barca's opening league game, Suarez has been irrepressible, scoring six league hat-tricks and dominating games.
The Uruguayan hit peak form at the ideal time, scoring 14 times in the last five games and dragging Barca back on course for the title after a four-game winless streak in April threatened to derail their bid.