In an indictment released by the Department of Justice on Wednesday, Hawilla was one of four convicted defendants who helped US investigators build their case against 14 top global soccer officials and sports marketing executives accused of orchestrating more than $150 million in bribes and kickbacks.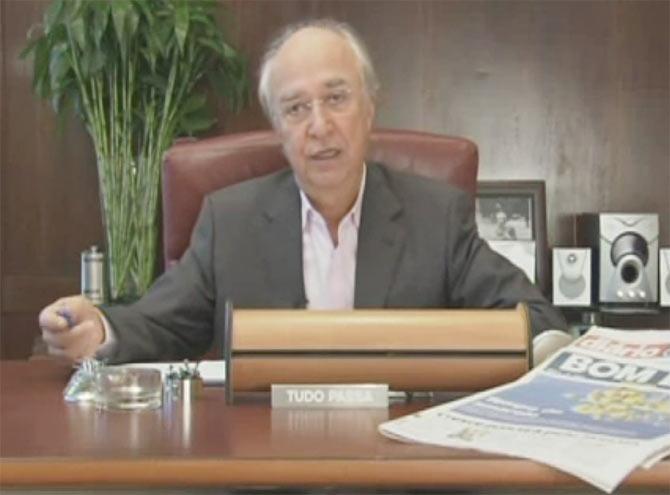 A video grab of Jose Hawilla, the Brazilian sports marketing business tycoon
To help bring corruption charges against some of the most powerful men in world soccer, prosecutors in the United States convinced a Brazilian sports mogul to confess to a life at the nexus of money, soccer and graft.
José Hawilla, 71, the founder of sports marketing company 'Traffic', has spent decades connecting soccer officials with surging revenues from broadcast and advertising rights, while dodging investigations from Brazilian lawmakers and prosecutors.
- FIFA: Swiss open criminal proceedings tied to 2018, 2022 World Cup bids
- Six officials arrested and detained in Zurich over FIFA graft
- Maradona delights in FIFA scandal; backs Prince Hussein for top job
- Undeterred by arrests, FIFA boss Blatter plots another great escape
Through connections at the top of the Brazilian game, Hawilla has negotiated TV deals for South America's biggest tournaments since 1991, along with nearly half a billion dollars of sponsorships including Nike Inc and the Coca-Cola Co.
His hefty commissions were divvied up as kickbacks for soccer officials in Brazil and throughout the Americas, Hawilla told US investigators as part of plea deal in which he also agreed to forfeit over $151 million.
In an indictment released by the Department of Justice on Wednesday, Hawilla was one of four convicted defendants who helped US investigators build their case against 14 top global soccer officials and sports marketing executives accused of orchestrating more than $150 million in bribes and kickbacks.
Hawilla's lawyer told newspaper Folha de S. Paulo that he had pled guilty, remained free in the United States, and was cooperating with investigators there. It was unclear exactly what information he had passed to US officials.
Hawilla's guilty plea and the US graft charges against José Maria Marin, former head of Brazilian Football Confederation (CBF), stirred hopes in Brazil that the biggest names in the sport were finally within the law's reach. Anger has been building for years in Brazil over corruption scandals that are battering its economy and souring its politics.
"For a long time, Hawilla was as big as it got in the business, and his influence is still huge," said Pedro Daniel, an advisor to Bom Senso FC, a group of Brazilian soccer players trying to reform the sport.
"This is just the tip of the iceberg."
A TV presenter in the 1970s, Hawilla used his close relationship with Ricardo Teixeira, who ran the CBF for 23 years before Marin's two-year term, to buy a small-time billboard company in 1980 and build it into one of the world's five biggest sports marketing agencies.
Traffic outgrew Brazil, moving into the negotiation of marketing rights for world soccer governing body FIFA, and expanding into the United States. Traffic Group's US president, Aaron Davidson, was among those indicted on Wednesday.
In Brazil, Hawilla even managed in the soccer business what few could do on the field: taking legend Pelé out of the game.
When the three-time World Cup winner's marketing agency missed a shot at a contract for a Brazilian soccer tournament in the early 1990s, he told Playboy magazine in an interview that he had lost to Traffic because of corruption.
Teixeira sued Pelé, who was marginalized from CBF business and the ceremonies surrounding the 1994 World Cup, the fourth won by Brazil.
"Pelé was a persona non grata with the national team because of Hawilla's scheme. That shows you who was running the CBF's business under Ricardo Teixeira," said Leandro Cipoloni, an investigative journalist and co-author of The Dirty Side of Soccer, a book on the corruption scandals sullying the Brazilian game. "Now the house of cards is coming down," he said.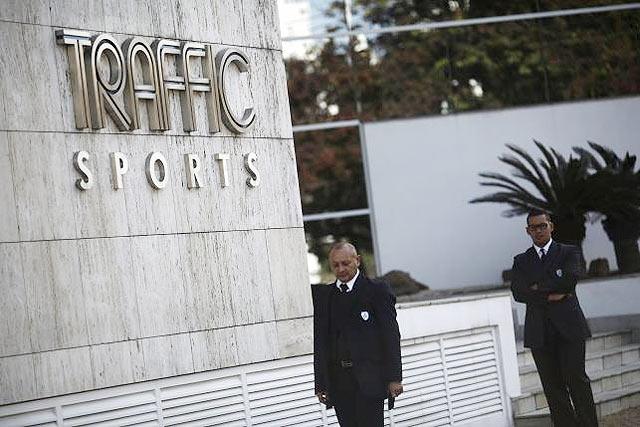 Security guards stand at the entrance of the headquarters of Traffic Sports in Sao Paulo, Brazil on Wednesday. Photograph: Nacho Doce/Reuters
Teixeira and Hawilla could not be reached for comment. A spokesman for Pelé did not reply to a request for comment.
Teixeira left the CBF in 2012 amid criticism over his preparations for the 2014 World Cup, which Brazil hosted, and a police investigation into reports that he had taken million of dollars in bribes from a sports marketing firm. Teixeira denied the allegations and was not charged for any wrongdoing.
In 1996, Traffic negotiated a $369 million deal between Nike and the Brazilian national team, at the time one of the biggest sponsorships ever, which helped the US company break the grip of rival Adidas AG on the global soccer industry.
- Swiss justice office blocked bank accounts in FIFA probe
- Factbox - Soccer officials arrested in Switzerland
A Senate commission investigation in 2000 found that Traffic got a 5 percent commission on the Nike deal, making millions for an intermediary role that senators leading the probe called unnecessary.
Hawilla paid half of the money he made on a 1996 sportswear sponsorship to an unnamed "high-ranking CBF official," according to the charges that US prosecutors made public on Wednesday, based on testimony from Hawilla's plea bargain.
The indictment did not name Nike but the details matched the 1996 deal. Nike said on Wednesday said that it was cooperating with authorities on the allegations.
Traffic also played an intermediary role on Coca-Cola's $8 million CBF sponsorship in 1994, pocketing 20 percent of the contract, according to the Senate investigation in Brazil.
The commission's findings did not lead to charges over the alleged graft.
Coca-Cola called on FIFA on Wednesday to increase transparency and resolve the controversy.
Broadcast and marketing rights for international competitions were even more lucrative than Brazilian events, leaving room for hefty bribes, according to U.S. prosecutors.
They say Traffic and its partners paid $100 million in bribes to South American soccer officials for a 2013 contract securing rights to the Copa America international competition in 2015, 2016, 2019 and 2023.
Hawilla, who has spent less time on the daily business at Traffic and more time in the United States in recent years, has avoided serious legal troubles in Brazil.
Prosecutors in Sao Paulo, where Traffic has an office, said their records on the company are confidential.