Five months after winning a gold medal at the Asian Games, Vijender Singh is back in action in a higher weight category to spearhead India's boxing challenge at the Arafura Games in Darwin, Australia, along with senior pugilist Akhil Kumar and rookie Ajay.
Vijender, the world number one in the middleweight (75kg) category, has jumped a division to light heavyweight (81kg) for the May 7 to 14 event which is held every two years in the Australian city.
"It is just an experiment for this event. I want to check out the competition but I will be back in middleweight after this. I will compete in the Olympic qualifiers in 75kg. Even if I win a medal in Australia, it won't make any difference, I will be back in middleweight after this," Vijender said in New Delhi, on Thursday.
The 25-year-old World Championships bronze medallist said he is desperate to compete after training for nearly five months in the national camp in Patiala after the Asian Games gold in November last year.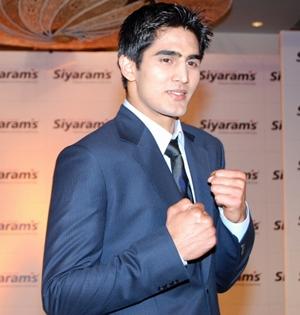 "It has been five months of no competition. I need to compete because the Olympic qualifiers will start this September. I have to attain peak form and fitness for that," said the Haryana-lad.
"The benefit of competing in such an event is that the pressure is not high. I can assess the scoring system and my opponents well," he added.
Vijender said the Games, which were first held in 1991 and feature countries based around the Arafura Sea, will be a good opportunity to get a hang of the new scoring system under which the judges are coming down hard on boxers who are too defensive.
"It is a welcome change for boxing and suits my style. It is always good to see two boxers fighting it out till the end. I will check out the pattern and see how points are given. It is important to understand the system well before big events such as the Asian Championships next month," he explained.
Akhil (56kg), who has also been just training after losing the quarter-finals of the Commonwealth Games last year, said the competition is a fresh beginning for him.
"It is a fresh start for me after the disappointment of the CWG. I have trained hard and I am fit, fingers crossed I should get a medal," said the 29-year-old, who went into the CWG as a defending champion.
Akhil also felt that the Games would be ideal to assess the changes in the scoring pattern that have come about in the past few months.
"My coaches have told me that under the new pattern, judges are giving points for hooks and upper-cuts which is a good sign because I rely heavily on these two punches. I am an attacking boxer and I am sure this system will suit me. Defensive boxing had taken the sheen off the sport," he said.
For Ajay, this will be his first international tournament. 
© Copyright 2022 PTI. All rights reserved. Republication or redistribution of PTI content, including by framing or similar means, is expressly prohibited without the prior written consent.