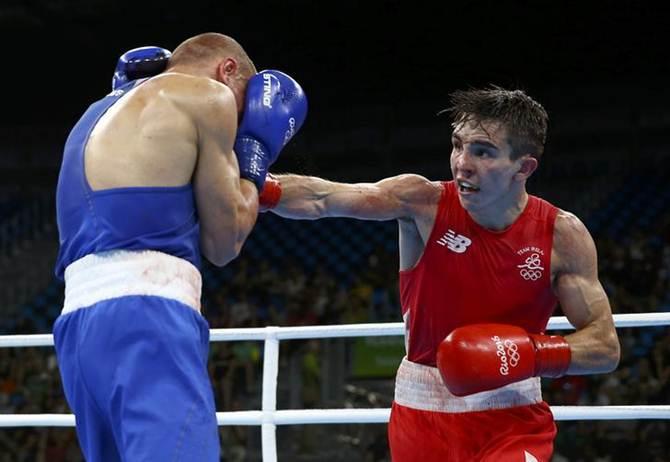 IMAGE: Ireland's Michael Conlan, left, and Vladimir Nikitin of Russia during their men's Bantamweight (56kg) quarter-final at the rio Olympics. Photograph: Peter Cziborra/Reuters.
Olympic boxing's governing body has removed some judges and referees from the Rio Games after a controversy over fight decisions and the new professional-style scoring system.
The International Boxing Association (AIBA) said in a statement that it had reviewed all decisions in the 239 bouts to date and found "less than a handful" were not at the level expected.
"The concerned referees and judges will no longer officiate at the Rio 2016 Olympic Games," it said, adding that the results of all bouts would stand. It did not name any individuals.
The judging was thrown into the spotlight this week when Irish and US boxers protested they had been 'robbed' in quarter-final fights.
Irish World champion bantamweight Michael Conlan went on an expletive-laden rant on live television after losing to Russian Vladimir Nikitin, and told reporters he would never fight again in any AIBA-organised competition.
US coach Billy Walsh, who is Irish, joined in the criticism after his light-welterweight Gary Russell missed out on a medal.
"The judging has been atrocious," he told reporters. "The last time I saw it as bad was in Seoul in 1988 when Roy Jones got robbed in the final."
Questions were also raised after Russian Evgeny Tishchenko won the heavyweight gold to boos from the crowd that clearly felt Kazakh opponent Vasily Levit had done more.
AIBA said it would protect the reputation of the sport and of its referees and judges "whose integrity is constantly put into question", and would not be deterred "by subjective judgements made by discontented parties."
Scoring systems in Olympic boxing have long provoked controversy and allegations of underhand activity.
The biggest and most blatant injustice was the decision against light-middleweight Jones, who lost gold at the Seoul Games to home fighter Park Si-hun after dominating the final.
The scoring was computerised in 1989, with judges pushing a button whenever a punch was made.
That too proved controversial, with U.S. light-flyweight favourite Eric Griffin beaten by local man Rafael Lozano in Barcelona in 1992 because the judges could not react fast enough to register many of his blows.
That system was replaced for Rio with a professional style 10 point format, with five judges ringside but the scores of only three counting after being chosen at random by a computer.
That has not eliminated suspicion, with Britain's Guardian newspaper reporting this month that there were fears within the sport that some bouts could be fixed.
AIBA official Tom Virgets of the United States said there needed to be better understanding.
"In 2012 our judges were robots while today they are analysts. We're in a transition period and we have a job to do with our coaches to train their boxers towards the criteria which AIBA is looking for," he said.
Virgets named the criteria as quality punches to the target zone, technique and tactics, competitiveness and infringement of the rules.