Reigning national and youth World Champion Sarjubala Devi powered her way to the second round of the senior women's national boxing championship after inflicting a crushing 29-7 defeat on Neetu on the opening day of the tournament, in Guwahati, on Sunday.
Sarjubala, the nimble footed Manipuri girl, proved too strong for the Chandigarh girl in the light fly weight category as she produced a series of devastating punches -- her cracking left hook being most lethal.
The 21-year-old Mamta, last year's nationals bronze medallist, opened her campaign with a comfortable win against Rekha Pradhan of Maharashtra.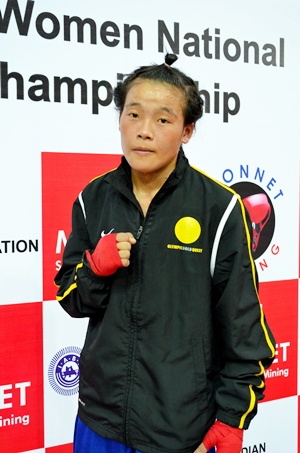 In the same category, Gurharkirat Kaur of Punjab faced some challenge from Pynjanai Sancley of Meghalaya, but in the end the 24 year old came through in fine fashion.
She dominated proceedings in the final round of play with some swift combinations and took the game away from the Meghalaya boxers.
The fly weight class also saw some power packed performances with Pinky Jangra playing for the Railways and Vani Lal Duati of Mizoram marching into the round of 16.
Both the fighters scored victories with an RSC (Referee stopped the contest) decision from the referee.
The 2012 Asian Championship bronze medallist, Jangra drubbed Neelam Singh of Chattishgarh while veteran boxer and former National Champion Duati beat Neha Bhambu of Rajasthan.
In the light weight division, local girl Pwilao Basumatary, a bronze medallist at the 2011 Women's Youth World Championship and a silver medallist at last year's nationals, also advanced to the next round.
The 19 year old hardly broke a sweat beating Parminder Kaur of Punjab in what was another once sided contest. She was leading 21-4 in the final round when the referee decided to stop the contest and award Basumatary the win.