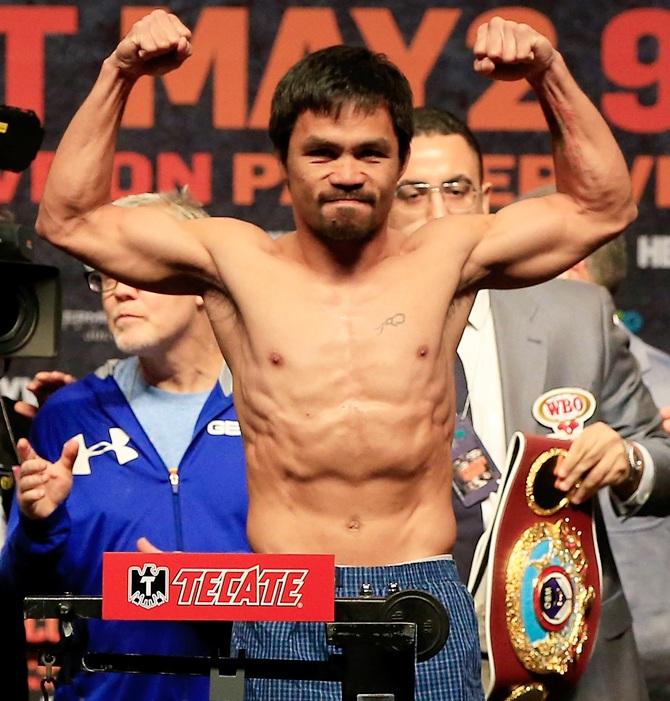 IMAGE: Boxer Manny Pacquiao poses on the scale during an official weigh-in. Photograph: Jamie Squire/Getty Images
Filipino boxer Manny Pacquiao has created a storm in his country after describing gay couples as 'worse than animals'.
The eight-time World boxing champion is a congressman in the Philippines and hoping to secure a Senate seat in the May 9 election at home.
'It's common sense. Do you see animals mating with the same sex? Animals are better because they can distinguish male from female,' Pacquiao told local broadcaster TV5 in an interview aired earlier this week.
'If men mate with men and women mate with women they are worse than animals.'
He later took to social networking sites to apologise for causing offence, but stuck to his beliefs, saying, "I'm sorry for hurting people by comparing homosexuals to animals. Please forgive me for those I've hurt. I still stand on my belief that I'm against same sex marriage because of what the Bible says, but I'm not condemning LGBT. I love you all with the love of the Lord. God Bless you all and I'm praying for you."
Pacquiao, who has a 57-6-2 record and won World titles in eight different weight classes in a 20-year career, is set to fight Timothy Bradley in Las Vegas on April 9 for the American's WBO welterweight championship.
Pacquiao quotes heavily from the Bible and currently represents Sarangani in the House of Representatives and is notorious for his chronic absences, favouring boxing training over legislation.
He credits his renewed Christian faith for transforming him from a womaniser and gambler into a devoted family man.
Gay marriage is outlawed in the Philippines due to strong opposition from the Catholic church. They are officiated at small churches but these unions are not recognised by the church or the state.