'I think her boxing career is finished'
'She has damaged her own country'
'Every athlete should fully respect the decisions of referees and judges'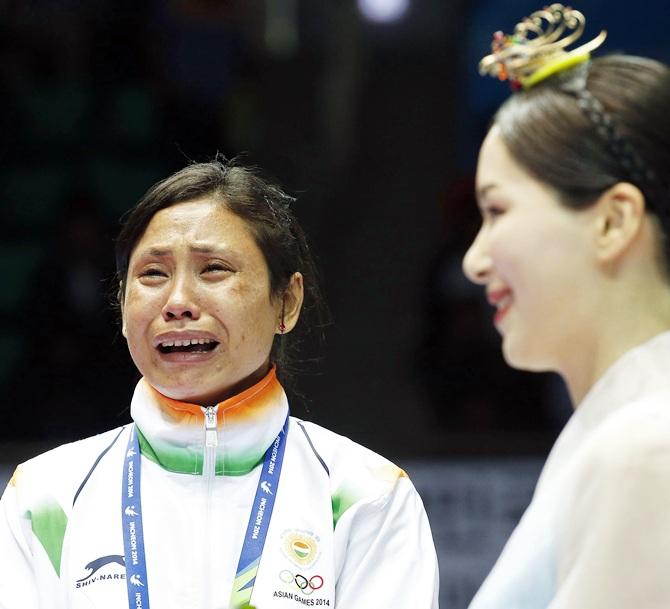 India's bronze medallist Laishram Sarita Devi reacts during the medal ceremony of the women's lightweight (57-60kg) boxing during the Asian Games. Photograph: Kim Kyung-Hoon/Reuters
India's boxer L Sarita Devi's career could be finished after her 'unacceptable' behaviour at the Incheon Asian Games where the fighter refused to accept her bronze medal on the podium, the president of the governing AIBA said on Wednesday.
"It was totally unacceptable behaviour for any competition in any sport," Taiwan's Ching-kuo Wu said.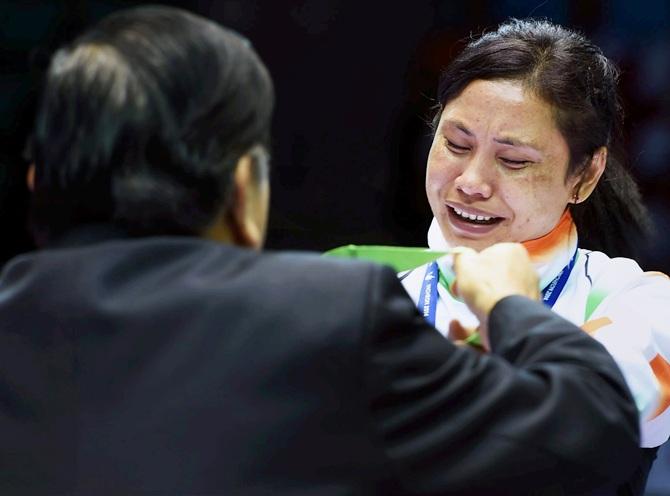 India's Sarita Devi refuses to accept the bronze medal. Photograph: PTI
"I think her boxing career is finished. The disciplinary commission is examining the case and will shortly give its final decision."
Sarita was furious after losing her semi-final to local favourite Park Ji-na in the women's lightweight division.
Her husband launched an expletive-laden tirade at the judges and Sarita lodged a protest against the decision but it was rejected, triggering cries of foul play from the Indian team.
The following day, she refused to wear the medal when it was presented to her, taking it only in her hand before trying to drape it over Park. When the presentation was over, Sarita left the medal behind, despite being told to take it with her.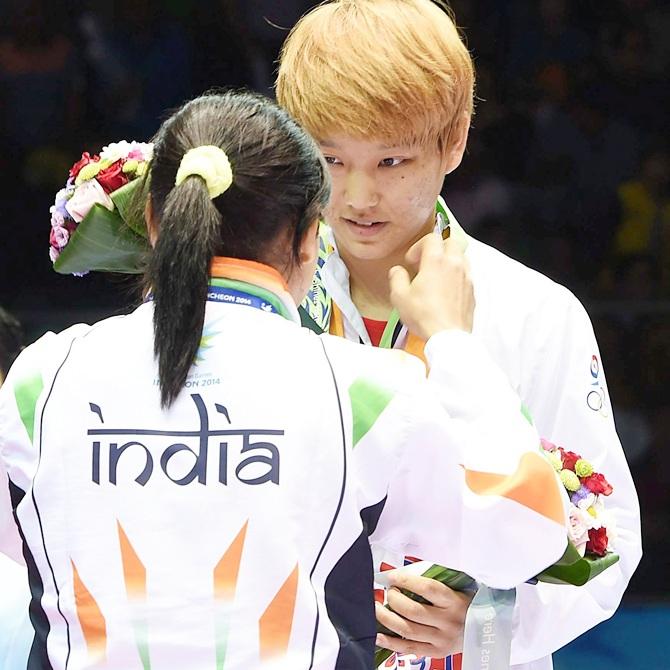 India's Sarita Devi gives her medal to South Korea's Park Jina. Photograph: PTI
The International Amateur Boxing Association (AIBA) then suspended her and banned her from the Women's World Boxing Championships on South Korea's Jeju Island this week.
"Every athlete should fully respect the decisions of referees and judges. So this boxer is facing very severe punishment," added Wu. "She has damaged her own country, India has been damaged."
Wu's comments will come as a shock to Boxing India, who were working to get Sarita's suspension lifted and put her back on track for a place at the 2016 Rio Olympics.
Also Read:
Did boxer Sarita really showed lack of sportsmanship? Tell us!
'The decision against Sarita was atrocious'
Boxer Sarita faces AIBA probe for returning medal at Asian Games
Asian Games: Robbed of final berth, inconsolable Sarita refuses bronze!
India at the Asian Games: Mary Kom wins gold, but disappointment all around
© Copyright 2022 PTI. All rights reserved. Republication or redistribution of PTI content, including by framing or similar means, is expressly prohibited without the prior written consent.