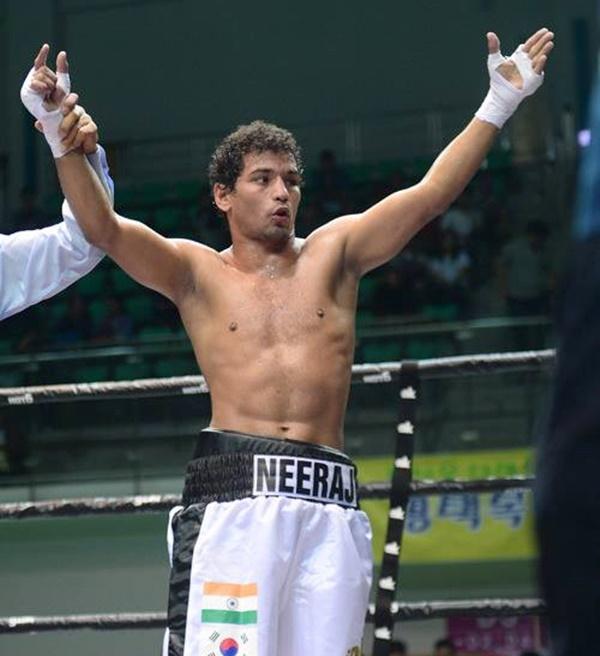 The World Boxing Council's Asian champion Neeraj Goyat is the lone Indian left in the fray for an Olympic berth after making it to the semi-finals, even as two of his compatriots bowed out following first round losses, in the International Boxing Association's Olympic Qualifying Tournament for professional boxers in Vargas, Venezuela.
The 24-year-old Neeraj (69 kg) defeated Greece's Dimitrios Poulikos Tsagkrakos 3-0 and will be up against second-seeded German Arajik Marutjan, a former European Championships silver-medallist, in Thursday's semi-finals.
Neeraj will get an Olympic berth if he wins the next bout. In case he loses, he has another chance of qualifying for the Rio Games through the box-off between losing semi-finalists.
However, it was curtains for Gaurav Bidhuri (52 kg) and Dilbag Singh (81 kg).
While Dilbag was beaten 1-2 by Moldova's Petru Ciobanu, Gaurav lost to the Ukraine's Maksym Fatych in the opening round.
The tournament features boxers from AIBA's own professional events -- the World Series of Boxing (WSB) and AIBA Pro Boxing (APB) -- besides pro boxers from all over the world.
However, none of the big names in the pro circuit have made themselves available for the event, citing reasons ranging from fitness, lack of time for preparation and the threat of sanctions by their promoters and licensing bodies like the WBO and the IBA.
So far, three Indian boxers -- Shiva Thapa (56 kg), Manoj Kumar (64 kg) and Vikas Krishan (75 kg) -- have made it to the Olympics through the qualifiers for amateurs.