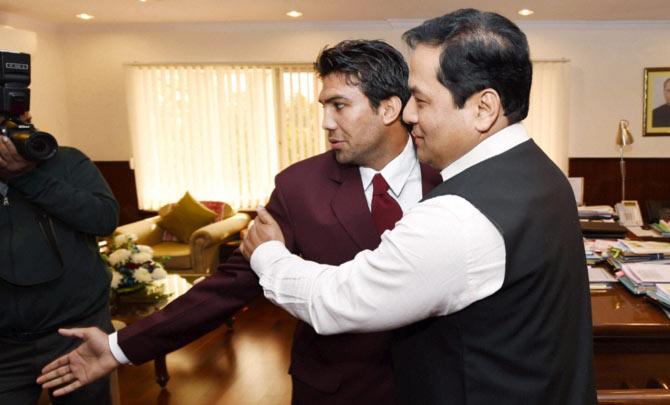 Sports Minister Sarbananda Sonowal (right) with Manoj Kumar. Photograph: PTI
Commonwealth Games gold medallist boxer Manoj Kumar on Wednesday lashed out at Kapil Dev, saying the Arjuna Award is a "fitting reply" from him to the former India cricket captain, who had earlier refused to recognise the pugilist.

"Today I can tell Kapil Dev that I am Manoj Kumar, who had won the gold medal at the 2010 Commonwealth Games, and now I have got the Arjuna award," Manoj told reporters after being belatedly bestowed with the prestigious honour by the Sports Minister Sarbananda Sonowal at his Shastri Bhawan office in New Delhi.

"I have today given a fitting reply to Kapil Dev," he added.

Manoj was earlier denied the award by the Kapil Dev-led selection committee even as another boxer Jai Bhagwan was recommended for the coveted honour.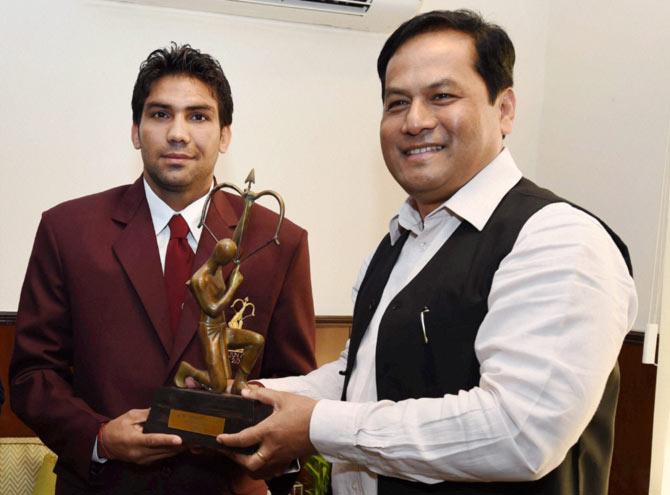 Sports Minister Sarbananda Sonowal (right) with Manoj Kumar. Photograph: PTI
According to the boxer, Kapil had cut the phone when he wanted to convey his grievances, asking him who he was.

"When I called Kapil Dev, he asked me 'Do I know you?'. I informed him that 'I am boxer Manoj, who won a gold medal in the Commonwealth Games. And my name has been removed from the Arjuna Award list
and you are giving the award to a bronze medallist'. But he cut the phone, saying that 'I don't want to talk about all these things'," recalled the boxer.

"My work is to do boxing. Going by my achievements I simply deserved the award. I don't know who made those false allegations against me of doping and I had been ruled out," he added.

Following the snub which he termed as 'insulting', Manoj had approached the Sports Ministry officials, who, he said, had assured him that his name would be added to the list in a review meeting.

But after being ignored for a second time in the review meeting, Manoj took the legal route and filed a case in the Delhi High Court.

He won the case and that led to the Ministry accepting his nomination for the award.
© Copyright 2022 PTI. All rights reserved. Republication or redistribution of PTI content, including by framing or similar means, is expressly prohibited without the prior written consent.