'You never know, this could be the last fight for me and Canelo here, that's if Donald Trump becomes president so...'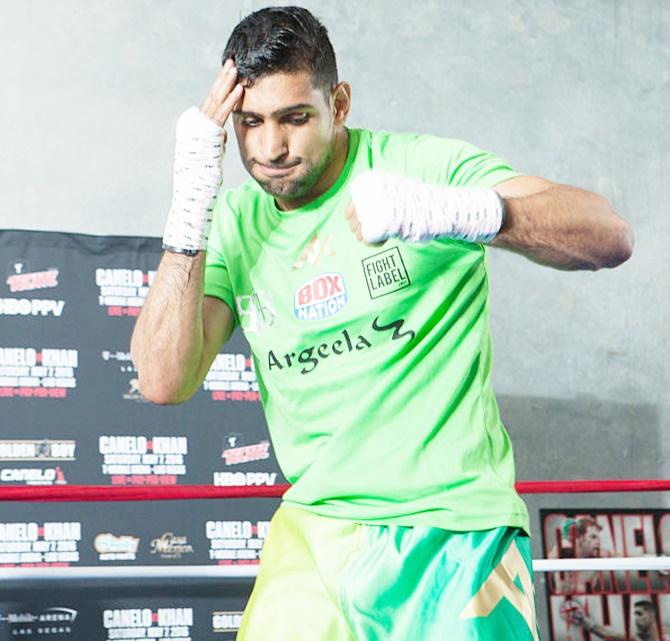 IMAGE: Amir Khan shadow boxes during an open media workout. Photograph: Alexis Cuarezma/Getty Images.
England's Amir Khan sparked loud roars of laughter ahead of his WBC middleweight title fight with Mexican Saul 'Canelo' Alvarez on Saturday when he aimed a light-hearted verbal jab at Republican presidential candidate Donald Trump.
"You never know, this could be the last fight for me and Canelo here, that's if Donald Trump becomes president so ...," Khan said before breaking off with a chuckle during a news conference at the MGM Grand in Las Vegas on Wednesday.
As the entire room erupted with loud guffaws, cheers and whistling, Khan went on to say: "You never know. You have to all tune in come Saturday."
Challenger Khan, a Muslim boxer with a 46-1-1 record including 32 knockouts, was speaking during the final news conference before Saturday's showdown at the T-Mobile Arena in Las Vegas.
Khan made his comments the same day that Trump became the last man standing in the race for the Republican US presidential nomination as the American's sole remaining rival, John Kasich, ended his campaign.
Trump has made his party's establishment uneasy with his abrasive tone and policy positions, including his promise to build a wall on the US-Mexican border, deport 11 million illegal immigrants and temporarily bar Muslims from entering the country.
On a more serious pugilistic note, Khan pledged to show his fans 'the best of Amir Khan' in the ring against Alvarez.
"Canelo is a tough guy, he's strong but we are going to be ready for whatever he brings to the table," said the 29-year-old from Bolton, a two-time former world champion.
"That's the reason I chose this fight because I really do believe I can win. He's a great champion, he's a credit to boxing but it's my time and I am going to grab it with both hands."
Renowned for his lightning hand and foot speed, Khan is a 5-1 underdog and will be taking on a bigger man in Alvarez, who is known for his punching power and has lost just once in 48 fights -- to undefeated American Floyd Mayweather Jr. in 2013.
"I know what Amir Khan brings," said Alvarez, nicknamed 'Canelo' (the Spanish word for cinnamon) because of his red hair.
"He is a very fast, very elusive, very tricky fighter, but I am confident with the work that's been done that I will be able to go in there and break this down."