M C Marykom became the toast of the nation on Thursday when she won her third straight world crown and helped India lift the team title, with four gold medals, at the fourth World Women's Boxing Championships.
Marykom became the first women boxer to win the world title three years in a row after the championships were introduced in United States in 2001.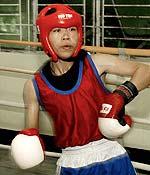 Marykom out-punched European champion Steluta Duta of Romania in the 46kg class bout to win 22-7 and immediately celebrated her triumph in the ring with a Manipuri folk dance.
The diminutive pugilist first deceived Duta by letting her open the account and trailing 0-1 just after getting going the mat. But she put the Romanian on defensive thereafter.
"I am very happy. I have no words to explain. I had defeated Duta in the recent Venus Cup finals so I really had no problem at all," said Marykom.
L Sarita Devi (52 kg), Jenny R L (63 kg) and Lekha K C (75 kg) won the titles in their respective categories while Negisatty Usha (57 kg) had to be content with a silver at the Talkatora Indoor stadium that reverberated with cheers of the home crowd.
Chhotu Laura (50 kg), Aruna Mishra (66 kg) and Renu (80kg) finished as bronze medallists for the hosts.
Russia, last year's champions, finished second with three gold and three silver medals, followed by North Korea with a tally of 2-0-1.
Canada, the runners-up in 2005 edition, were fourth with one gold and two bronze.
© Copyright 2021 PTI. All rights reserved. Republication or redistribution of PTI content, including by framing or similar means, is expressly prohibited without the prior written consent.