Indian tennis star Rohan Bopanna, on Friday, expressed his desire to play in an India-Pakistan match at the Wagah border to promote friendship between the two countries.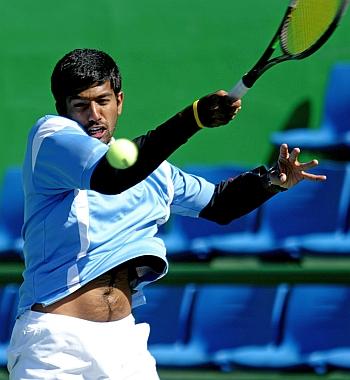 "If my government allows it, I am ready to play anywhere in Pakistan, especially at the Wagah border, to promote friendship between the two countries," Bopanna said, at the Lahore Gymkhana, where he played tennis.
Bopanna and another Indian player Mustafa Ghous are in Lahore to attend the wedding of Pakistani tennis star Aisam-ul-Haq Qureshi.
The pair of Bopanna and Qureshi, known as the 'Indo-Pak Express', has earned laurels.
Bopanna called for strong tennis ties between India and Pakistan and said he was happy to come to Lahore and attend the wedding of his tennis partner.
After securing a World top 10 ranking in the men's doubles in 2011, Bopanna separated from Qureshi to prepare for the London Olympics.
Qureshi's wedding is scheduled to take place in Lahore on December 17.