World and Olympic champion Usain Bolt powered away late in the race to win the 100 metres in 9.8 seconds at the season-closing Diamond League meeting in Brussels on Friday.
Bolt, who won 100, 200 and 4x100 relay golds at last month's world championships was one of several Moscow medallists in action.
After a poor start, the Jamaican's acceleration over the second half of the race was again the difference in a 100 metres featuring six of the finalists from the world championships.
American Michael Rodgers was second in his season's best of 9.90 and Jamaica's world bronze medallist Nesta Carter was third. Justin Gatlin, second to Bolt in Moscow, finished fourth.
"It wasn't a perfect season, wasn't the best season of my career," Bolt, who struggled with a hamstring injury earlier in the year told the BBC.
"But the main thing is, I finished on top and dominated.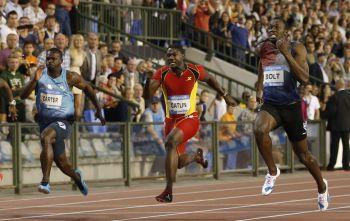 "It wasn't a perfect start. If I'd got a better start it would've been 9.7," added Bolt.
His compatriot Shelly-Ann Fraser-Pryce has been the dominant women's sprinter this year and the world and Olympic champion set a meeting record of 10.72 as clear winner of her 100 event.
"I don't think about times, I just focus on execution. I know once I've executed what I can do, I know that I'll set a good time," Fraser-Pryce told reporters.
Jamaican Warren Weir, silver medallist to Bolt in the 200 in Moscow, edged compatriot Nickel Ashmeade over the longer sprint for victory in 19.87 seconds.
Trinidad and Tobago's Jehue Gordon, surprise winner of the 400 metres hurdles world title, took victory in 48.32 seconds and Kenya's Milcah Chemos set a meeting record of 9:15.06 in the women's 3,000 steeplechase.
Kenyan Nelly Jepkosgei clocked a world leading time of 2:35.43 in the rarely run 1,000 metres, in the same stadium Russian Svetlana Masterkova set the world record of 2:28.98 in 1996.
Image: Usain Bolt
Photograph: Francois Lenoir/Reuters