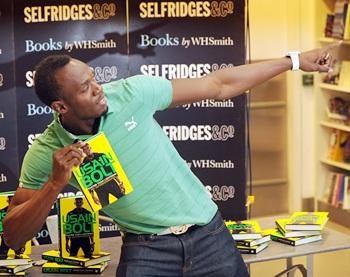 Olympic sprint champion Usain Bolt said on Saturday that controversy over Jamaica's anti-doping programme is scaring off potential sponsors and costing him money.
"There is a lot going on with this drug thing that I really feel they need to be clear (about) and clarify because now it is causing problems for me when it comes to making money in my sport," he told a news conference in Monaco.
Bolt, who is on a three-man shortlist for the male Athlete of the Year award which will be announced by the International Association of Athletics Federations (IAAF) in the principality later on Saturday, has never failed a drug test.
High-ranking World Anti-Doping Agency (WADA) officials went to Jamaica last month to look at the country's anti-doping efforts after weeks of criticism following positive tests from several high-profile athletes.
WADA president John Fahey had suggested the Caribbean nation could face severe penalties if the Jamaica Anti-Doping Commission (JADCO) was declared non-compliant. Only WADA code-compliant sports can participate in the Olympic Games.
Jamaica's minister with responsibility for sports, Natalie Neita-Headley, told a news conference at JADCO headquarters last month that WADA had given no indication it was non-compliant.
However, Bolt said the fallout from the controversy was affecting him.
"It is really costing me money now. I am not too happy with that," he said. "Track and field is my job."
Bolt's manager Ricky Simms said rumours suggesting Bolt might not be at the next Olympics in Rio de Janeiro in 2016 had upset the sprinter and put off a potential sponsor.
"I think what he was disturbed about was... the misinformation that was out there," Simms said.
"It's a potential new sponsorship. They asked the question 'Are you going to be in the Olympics?' They don't want to sponsor him and then he is not in the Olympics."
Simms gave no details of the sponsor but, asked if there would be more discussions about signing up Bolt, he said: "Absolutely."
Three Jamaicans - former world 100 metres record holder Asafa Powell, twice 200 metres Olympic champion Veronica Campbell-Brown and London Games 4x100 relay silver medallist Sherone Simpson - failed drug tests and were left out of the team for the August world championships.
The credibility of Jamaica's anti-doping work was called into question by Renee Anne Shirley, a former senior official with the country's anti-doping commission.
She told Sports Illustrated in August the authority had carried out just one out-of-competition test between February 2012 and the start of the London Olympics in July.
Image: Usain Bolt
Photograph: Stuart C Wilson/Getty Image