Jamaica won the showcase 4x200 metres relay without Usain Bolt as their American rivals dropped the baton at the IAAF World Relays in Nassau, Bahamas on Sunday.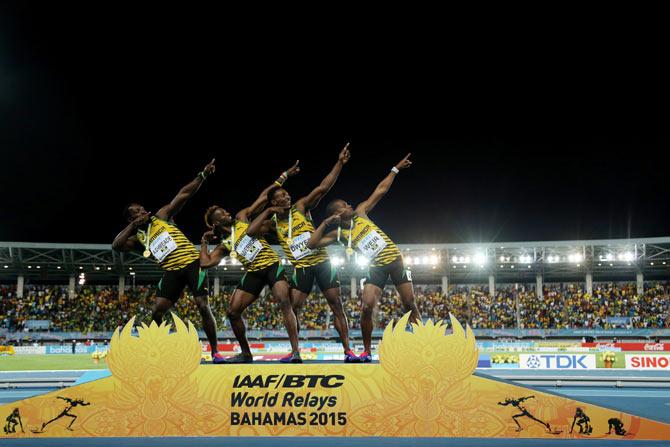 Nickel Ashmeade, Rasheed Dwyer, Jason Livermore and Warren Weir survived a shaky second exchange baton pass to claim the feature race in one minute, 20.97 seconds.
But at least the Jamaicans, in winning their first race of the two-day meeting, got the baton around.
The Americans were not so fortunate. A muffed passed between Isiah Young and Curtis Mitchell on the second exchange sent the baton flying, leading to their disqualification.
Bolt did not run as a precaution, his manager said, after the world's fastest man felt tightness in his hamstring warming up.
Second place went to France and Germany claimed third.
Justin Gatlin, not realising the US had dropped the baton, still ran a blazing anchor leg to bring the Americans from seventh to third before their disqualification was announced.
The US, with Gatlin running a strong second leg, had beaten a Bolt-anchored team in the men's 4x100 on Saturday.
The two rivals are not expected to meet in a sprint showdown before August's world championships in Beijing.
Jamaica's women added to the island nation's delight with a come-from-behind win over the US in their 4x100.
Twice Olympic champion Veronica Campbell-Brown ran down U.S. anchor Carmelita Jeter to bring the Jamaicans home in 42.14 seconds, ahead of the Americans (42.32).
Britain took third ahead of Canada, Trinidad and Tobago, Brazil, Nigeria and Switzerland.
All eight teams won automatic qualifying berths for the 2016 Olympics in Rio de Janeiro.
Americans swept the other three finals, the men's distance medley and women's 4x400 and 4x800 relays.
The most important was the women's 4x400, where Olympic berths were also at stake.
Phyllis Francis, Natasha Hastings, Sanya Richards-Ross and Francena McCorory assured the Americans would be in Rio with their run of 3:19.39.
Jamaica were second and Britain held off France for third.
Poland, Canada, Australia and Brazil also qualified for the Olympics.
Kyle Merber, Brycen Spratling, Brandon Johnson and Ben Blankenship combined for a world record 9:15.50 for the U.S. in the infrequently held men's distance medley, which consists of legs of 1,200, 400, 800 and 1,600 metres.
Kenya took second and Australia were third.
The US women were victorious in 8:00.62 in the 4x800, beating Poland and Australia.
Image: Nickel Ashmeade, Rasheed Dwyer, Jason Livermore, and Warren Weir of Jamaica celebrate after winning the final of the men's 4 x 200 metres relay on day two of the IAAF/BTC World Relays, Bahamas 2015 at Thomas Robinson Stadium in Nassau, Bahamas, on Saturday
Photograph: Mike Ehrmann/Getty Images for IAAF