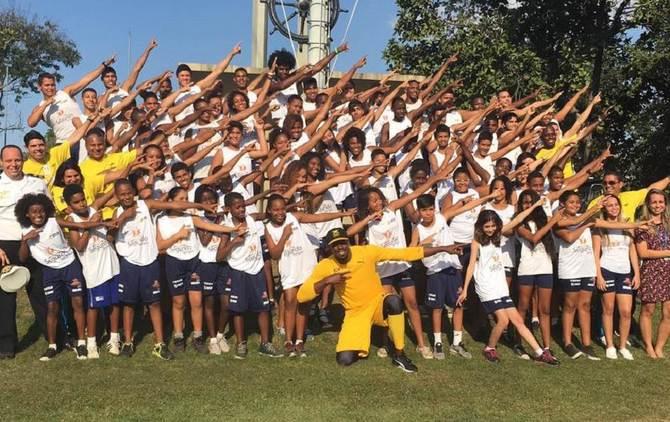 IMAGE: Usain Bolt from Jamaica strikes his famous pose with kids in Rio de Janeiro. Photograph: Facebook.
Access to Usain Bolt has been scarce for the media desperate to speak with arguably the biggest star of the Rio 2016 Games as he prepares to defend his three Olympic titles.
However, a group of children from underprivileged communities surrounding the Jamaican track and field team's training base were invited to meet the reigning 100m, 200m and 4x100m champion on Tuesday (2 August).
In a post on his Facebook page, Bolt shared a photo of him doing his trademark lightning bolt pose with dozens of kids from favela (Brazilian shanties) communities located close to the Navy Physical Education Centre in the Penha neighbourhood, which the Jamaicans are using as their pre-Games training base.
"They say these children are from the most dangerous communities (favelas) here in Rio. They are our future and I'm very happy I got to meet them," Bolt wrote.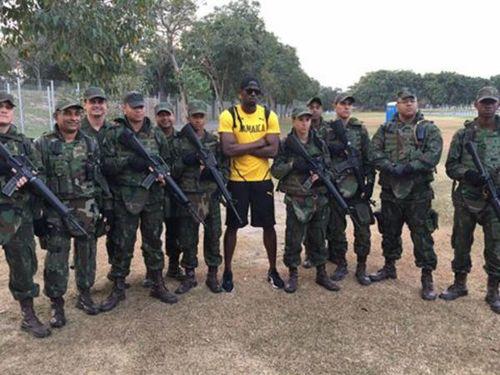 IMAGE: Usain Bolt from Jamaica with the Brazilian army. Photograph: Facebook.
Bolt also posted a picture with the Brazilian army stationed in Rio de Janeiro.
Bolt and the rest of the Jamaican team are expected to move into the Olympic Village on Wednesday (3 August), two days before the opening ceremony at the Maracanã.
Bolt's bid to retain the three titles he won at the Beijing 2008 and London 2012 Games will begin on 13 August with the 100m heats.