Usain Bolt summoned up just enough energy to get past Jamaican compatriot Asafa Powell at the line to win the 100 metres on Thursday at the third Diamond League meeting of the season which was dominated by Americans.
The Olympic champion and world record holder, in his first competitive outing since losing to American Tyson Gay nine months ago, started slowly but powered ahead in the last five metres to win in 9.91 seconds in humid conditions.
It was his ninth victory in 10 races against Powell, who ran 9.93 with Frenchman Christophe Lemaitre third in 10 seconds.
"I don't think I should be judged on today's performance," Bolt told reporters.
"It was my first race for nine months and I was nervous. I had to get the cobwebs out and the muscles going but it's a good start to the season by winning," he added.
Italian Andrew Howe brought the Olympic Stadium to its feet in the men's 200. Lifted by the crowd in the final straight, he powered home in 20.31 seconds ahead of Jamaican Marvin Anderson (20.49) with Trinidadian Rondel Sorrillo in third (20.68).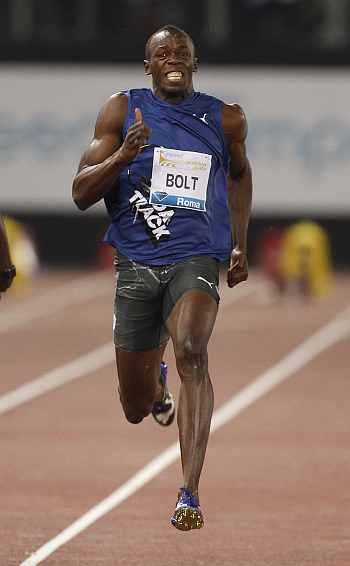 American Khadevis Robinson, 35, caused a major upset in the 800 metres, setting his best time of the year as he cruised to victory in 1:45.09 ahead of South African Mbulaeni Mulaudzi (1:45.50) and Kuwaiti Mohammed Khalaf Al Azemi (1:45.52).
"Nobody could have expected I'd win here," he said. "I felt good, everything went well and the oldest man in the race won."
DEVASTATING SPRINT
In the men's 400 metres, Christopher Brown of the Bahamas produced a devastating sprint in lane 7 to win in 45.16 seconds with Jamaica's Jermaine Gonzales (45.43) and Belgian Jonathan Borlee (45.53) trailing in his wake.
Louis Van Zyl continued his fine start to the season with a second series victory in the 400 hurdles. Leading from start to finish, the South African won in 47.91 with Briton David Greene second (48.24) and American Angelo Taylor third (48.66).
"I changed my training a lot this year," said Van Zyl. "I sold my motorbike, I have a diet and I sleep enough. I finally feel like the real professional athlete."
In the men's 5,000, Ethiopia's Imane Merga set the fastest time this year, 12:54.21, in the cooler late evening conditions after breaking from a five-strong group in the final straight to beat Kenyans Isaiah Kiplangat Koech and Vincent Kiprop Chepkok.
British long jumper Phillips Idowu's third-round leap of 17.59 metres -- the longest this year -- was enough to secure a convincing win in the men's event over Sweden's Christian Olsson (17.29) and Cuban Alexis Copello (17.14).
In a close women's 200, American Bianca Knight kept her cool in lane 2 to win in 22.64 seconds ahead of Jamaican Kerron Stewart (22.74) and Debbie Ferguson-McKenzie (22.76).
FELIX SPARKLES
Allyson Felix set the best time this year in the women's 400 by winning in 49.81 seconds. Coming into the final bend level with Botswana's Amantle Montsho and fellow American Francena McCorory, Felix held her nerve to win with metres to spare.
There was an American 1-2-3 in the women's 100 hurdles with Dawn Harper (12.70 seconds) holding off the challenge of Kellie Wells and Danielle Carruthers after another American, Lolo Jones, who had been leading, hit a hurdle four from home.
American Britney Reese jumped 6.94 metres to win the women's long jump. Her opening leap of 6.64 was bettered by compatriot Funmi Jimoh's third round 6.87 but, urged on by the fans, the lanky Reese responded on her fourth jump to take first place.
"There is a great atmosphere here," said Reese. "I'm looking forward to jumping over seven metres as soon as possible -- hopefully in my next (meet) in New York in front of my own people."
Blanka Vlasic won the women's high jump with 1.95 metres in front of a sea of Croatian flags to beat Saint Lucian Lavern Spencer and France's Melanie Melfort who record 1.92.
Bahrain's Maryam Yusuf Jamal overcame the challenge of Ethiopian pair Meskerem Assefa and Gelete Burka in the women's 1500 metres to sprint to victory in 4:01.60.
Kenyan Milcah Chemos Cheiywa kicked hard at the bell in the women's 3,000 metres steeplechase to steal a few seconds on second-placed Ethiopian Sofia Assefa, winning in 9:12.89.
As the evening cooled, Canada pipped Italy to win the men's 4x100 metres relay and slightly dampen the electric atmosphere.
The May-to-September Diamond league series offers $8 million in prize money over 14 meetings.