Olympic sprint champion Usain Bolt is confident he can set a 200 metres world season's best at Oslo's Bislett Games on Thursday despite last week's defeat in the 100 in Rome.
"During the season, none of the 200 metre runners have gone below 20 seconds so... it would be nice to break 20 seconds," he said on Tuesday.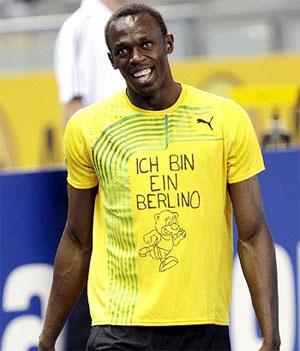 "I think I'm in shape, I felt good during training today. I think I can get below 20 seconds, no problem."
The 26-year old Jamaican, whose early season was hit by a hamstring problem, said the injury was no longer troubling him but that he needed plenty of races to get ready for the world championships in Moscow in August.
Bolt, world record holder over 100 and 200, has not been officially clocked over the longer distance this year and his loss in the 100 to Justin Gatlin at the Rome Diamond League has increased speculation over his fitness.
However, none of the competitors lined up for the Oslo Diamond League 200 has gone below 20.23 seconds this year, over a second slower than Bolt's 2009 world record.
"I've been through so many injuries now, I understand what it takes to get back, you just need races, races, races and that is always the key thing," Bolt said.
"Today I went to train and felt extremely good."