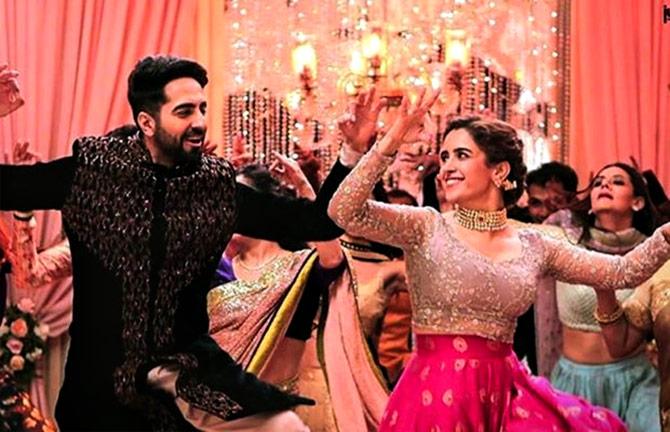 Unprecedented security is always reassuring but Pakistan hockey team currently in Bhubaneswar for the Hockey World Cup won't mind if they could sneak out for a late night Bollywood movie to kill the monotony of shuttling between stadium and hotel.
And they have a specific choice too but there's only one show in the morning.
"There were attempts made to lure us into watching Rajnikath's science fiction 2.0 but our boys are keen on watching Badhaai Ho. But there is only one show in the morning," lamented former captain Rehan Butt, who is now an assistant coach.
Badhai Ho starring Ayushmann Khurrana and Neena Gupta, one of the big hits of the year is a story about an elderly couple having a child and their adult sons' take on their conjugal life.
While players and teams from other participating nations can venture out as and when they wish, individual outings are a big 'No' for the Pakistani players. They are allowed to visit places in groups only and have to mandatorily inform the security a day in advance.
"We inform our security in-charge about our interest. He conveys the message and the security secures the area. They don't close the place for others, but make sure security is in place. The best part is that when people realise it is the Pakistan team, they cheer us wholeheartedly," Butt said.
The Pakistan team has been provided with a three-layer security cover once they landed in the city unlike other countries. The security layer is wider and more so because of what had happened during 2014 Champions Trophy. After beating India in the semi-finals in that tournament, the Pakistanis had upset the crowd by making obscene gestures towards them.
But Butt said his experience in India has always been a pleasant one.
"My experience in India has always been very good because I have visited this place regularly for hockey leagues and India-Pakistan series. As far as travelling with the national team is concerned, we have enjoyed the love of the people of Bhubaneshwar. The security also has been foolproof in arranging safe trips to places of our interest," Butt said.
According to Butt, the security here is lot more lenient than what it was in New Delhi during the 2010 the Commonwealth Games.
"There was a lot more restrictions back then. Delhi, of course, is different from Bhubaneshwar," he signed off.
Pak suffer twin blows: Skipper Rizwan out with injury, deputy Butt banned for 1 game
Pakistan hockey team's World Cup campaign suffered twin blow on Thursday with skipper Muhammad Rizwan Sr ruled out of the remainder of the tournament with an injury while vice captain Ammad Butt banned for their last Pool match against Netherlands because of a serious on-field offence.
However, Butt's suspension didn't go down well with the Pakistan team management with manager Hasan Sardar terming the International Hockey Federation's (FIH) decision as "biased".
Butt was banned for one match after Malaysia lodged a complaint to the FIH against the player for a rough tackle in the 1-1 draw on Wednesday.
"Rizwan Senior fractured his little finger so unfortunately he won't be able to play any further part in this tournament," Sardar said in a video message.
"About Ammad Butt, we weren't informed yesterday that Malaysia had appealed. They (FIH) informed us later. We were called for hearing today. If we look at the video against which they had taken action taken action for a harsh dash, there wasn't any such dash," Sardar said.
"If we look at the video everybody would agree that Ammad not only stopped the ball but the umpire also didn't give any penalty corner against us nor the umpire showed any card to Ammad Butt," he said.
Although not in as many words, Sardar wasn't happy that Butt's suspension was handed by a Dutch technical delegate, the country against whom, they will play their last pool match.
"I think this is an afterthought but we have to play a match against the Netherlands and this decision was given by a Dutch technical delegate. They lost to Germany and this is a do-or-die match for them as well as us. So I think they have taken this harsh decision against us."
Sardar said Pakistan had appealed against the banning of Butt and hoped the sanction would be lifted and he would be able to play against Netherlands in their crucial last pool match on Sunday.
"We have appealed against this decision and I hope the FIH would listen to our appeal and give a decision in our favour," he said.
"Ammad not only saved himself and a goal but also the Malaysian player. This is a biased decision," Sardar alleged.
© Copyright 2021 PTI. All rights reserved. Republication or redistribution of PTI content, including by framing or similar means, is expressly prohibited without the prior written consent.