The British Olympic Association (BOA) risks sanctions if its lifetime Olympic ban for drug offenders contravenes the World Anti-Doping Agency code, WADA president John Fahey said on Thursday.
WADA will present a compliance report to its Foundation Board on Sunday which will then be passed on to the International Olympic Committee (IOC) who will decide what action to take against National Olympic Committees deemed to be non-compliant.
Last month the Court of Arbitration for Sport (CAS) said an IOC rule banning athletes who had served a doping ban of more than six months from the next Games amounted to a second sanction and was not in compliance with the WADA code.
In a letter to BOA chairman Colin Moynihan, seen by Reuters, WADA informed the BOA that in light of the CAS decision it might want to review its rules.
"Lord Moynihan suggests that this is an official request to the BOA to 'drop their rule'," Fahey said. "It is not.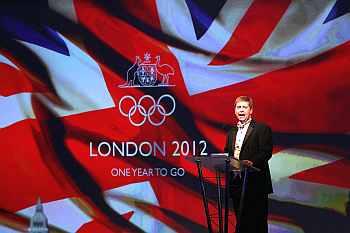 "Lord Moynihan claims that WADA's challenge came 'out of the blue'. It did not.
"Lord Moynihan claims that it is a 'remarkable challenge from WADA'. It is not.
"WADA has simply suggested that the BOA consider its rule in light of all the information available to it."
In a letter dated Oct. 7, WADA asked the BOA to respond to the CAS ruling.
MOYNIHAN CRITICISM
WADA said it had received no response from the BOA and so had sought a legal opinion from British lawyer Michael Beloff in order to complete its compliance report.
It then informed the BOA in a letter dated Nov. 14 that the opinion it received indicated the BOA bylaws were not compatible with the WADA code.
"WADA has suggested that the BOA consider its position in light of the implications of the decision from CAS in relation to the IOC rule and the opinion that WADA has obtained," said Fahey. "WADA would appreciate a proper reply to the correspondence.
"To date, that response has been through misinformed allegations in the media against WADA and the WADA process."
Moynihan said on Tuesday WADA was out-of-touch, ineffective and soft on drug cheats. On Wednesday he announced the BOA would seek a hearing before CAS "to address the enforceability of its selection policy and bring clarity and closure".
"WADA has read with some concern the statement made by the President of the BOA following the BOA Executive Committee meeting yesterday," said Fahey. "Once again, Lord Moynihan makes comments without adherence to the facts.
"The CAS, in the IOC case, made it quite plain that WADA is the body responsible for anti-doping rules globally.
"The BOA, as a signatory to the (WADA) code, has agreed to accept and implement all of the provisions of the code, including those relating to sanctions to abide by them.
"Any decision as to whether they have been compliant or not in relation to that will be determined by the WADA Foundation Board on Sunday."