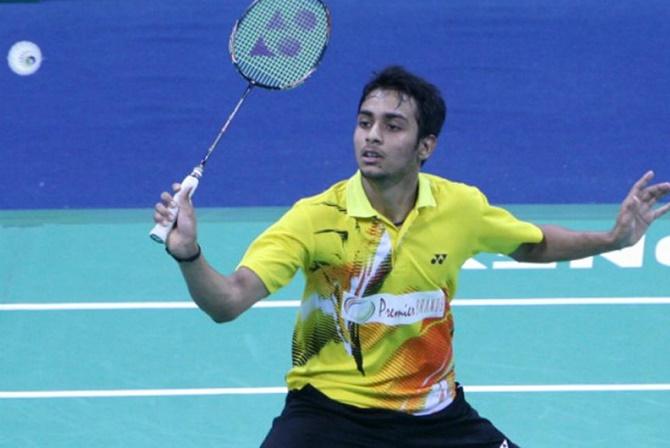 IMAGE: India's badminton player Sourabh Verma in action. Photograph: PTI
India's Verma brothers -- Sourabh and Sameer -- advanced to the second round of the men's singles competition of the $120,000 Bitburger Open Grand Prix Gold badminton tournament in Saarbrucken, Germany.
Sourabh, who clinched the Chinese Taipei title earlier this month, defeated Austria's Rudiger Gnedt 21-16, 21-11 in just 20 minutes, while his younger brother Sameer, senior National champion, beat Germany's Alexander Roovers 21-11, 21-11 in another encounter.
Sourabh, who had reached the finals at International Challenge events at Belgium and Poland, will next face formidable Chinese and 14th seed Xue Song.
12th seed Sameer will face Finland's Eetu Heino in the second round.
However, it was curtains for Siril Verma and Subhankar Dey, both of whom lost to Indonesians Ihsan Maulana Mustofa and Jonatan Christie respectively.
Siril suffered a 17-21, 16-21 loss to sixth seed Mustofa, while Subhankar lost 19-21, 18-21 to fifth seed Christie in another opening round match.
In the opening round of the men's doubles, India's Akshay Dewalkar and Kona Tarun will take on German eighth seed Michael Fuchs and Johannes Schoettler.
In the women's singles, Tanvi Lad will start her campaign against Gayle Mahulette of Netherlands and Ruthvika Shivani Gadde will face the Netherlands's Soraya De Visch Eijbergen.
In mixed doubles, Prajakta Sawant and Malaysia's Zhi Qing Lee will face Denmark's Julie Finne-Ipsen and Rikke Soby Hansen.