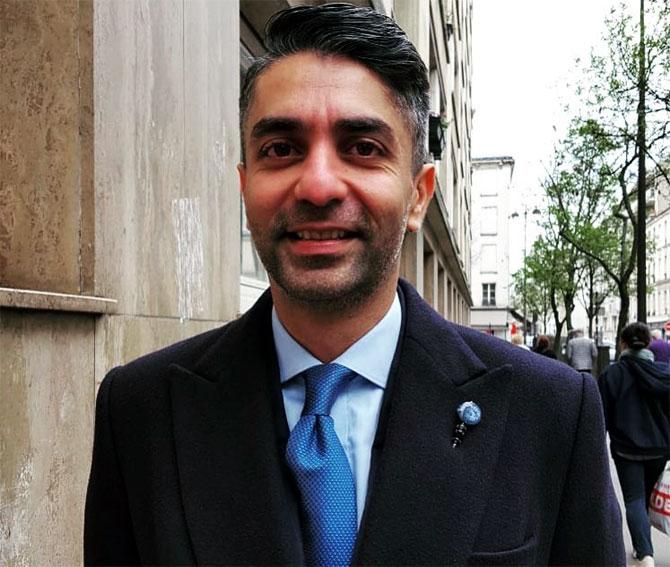 Olympic gold medallist Abhinav Bindra is set to take part in the fund-raising initiative 'Sunfeast India Run As One', a "virtual event" which supports people affected by the COVID-19 pandemic.
The funds collected from the registration fee of each "virtual runner, will go on from August 15 to September 15.
The initiative is aimed at providing support to vulnerable sections of society who have been distressed and have lost their livelihoods due to the pandemic.
"Many of us have been lucky to have a phone or a laptop as we sit comfortably at home. Others across the country have not been so lucky," Bindra was quoted as saying in a media release.
"With the 'Sunfeast India Run As One' campaign, we have an opportunity to stand and run in solidarity with those who have lost their livelihoods or are in danger of losing their livelihoods," he added. The registrations for the event have already begun. The participation fee starts at Rs 99. Donations can be made beyond the registration fee.
The run, supported by the government's Fit India movement, was initiated by marathon race promoters Procam International, India's leading sports IP creator in collaboration with GiveIndia.
The 'Sunfeast India Run As One' movement has set itself a goal of covering the total distance between Kashmir to Kanyakumari 74 times since India will be celebrating its 74th Independence Day this year.
Shubhankar tied 110th after Rd 1 of English Championship
Indian golfer Shubhankar Sharma carded an even-par 71 in the opening round, an effort that placed him tied 110th and in danger of missing the cut at the 2020 English Championship in Hertfordshire, UK.
Sharma hit a couple of birdies on the first two holes but was then unable to maintain the tempo at the Honbury Manor Marriott Hotel and Country Club course.
The Indian's erratic round comprised four birdies and an equal number of bogeys.
The front nine turned out to be quite eventful for Sharma as he picked up three strokes -- on the first, second and sixth holes -- but dropped as many. His back nine was made up of a birdie and a bogey each.
Last week in his first appearance since the COVID-19 forced break, Sharma missed the cut at Hero Open.
As many as seven players, three of who had completed their round, shot seven-under 64 to share the lead.
The group included Australian Jason Scrivener, who played in the same group as Sharma and Gavin Green (69).
There were 11 players, eight of whom had completed their rounds, carded 65 each.
Last week's winner at Hero Open Sam Horsfield had a rough day with two-over 73 and was Tied-126th.
Scrivener finished a career high 32nd in the 2019 Race to Dubai Rankings after seven top-10 finishes.
Lee missed the cut during the first two legs of the UK Swing at the Betfred British Masters and Hero Open but made a superb run of birdies around the turn to move into contention.
Lee won the ISPS Handa Vic Open on home soil in February.
Former World Number One Lee Westwood and Thorbjorn Olesen led a group of five players at five under.
Golf: Day, Todd share lead, Koepka one back at PGA Championship
Jason Day and Brendon Todd shared the lead after the first round of the PGA Championship while Brooks Koepka got his bid for a three-peat off to a solid start and Tiger Woods found success with a new putter in the first major of the COVID-19 era.
Former champion Day, who had top-10 finishes in each of his last three starts on the PGA Tour, carded a bogey-free five-under-par 65 at TPC Harding Park, where the absence of spectators due to the virus gave the event a unique feel.
"There was definitely a lot of momentum coming in off the previous finishes that I've had, three top 10s, which has been nice," the Australian said after the lowest first-round score of his major championship career.
"The game feels like it's coming around. I'm pleased with it."
Going out in the windy afternoon, Todd mixed seven birdies with two bogeys and sank a 10-foot par putt on his last hole.
"It really helps me going into tomorrow," he said of making the final putt.
"It allows me to spend the next 12 hours before my second round feeling really good, like I've got momentum still."
Koepka, Justin Rose, Xander Schauffele, former world number one Martin Kaymer and Zach Johnson were among a group of nine one shot off the pace in the first major championship since the July 2019 British Open.
Woods, in only his second PGA Tour event since February, struggled off the tee but, thanks to a longer putter that has allowed him to practice more without back pain, was three shots back after a 68 that included five birdies and three bogeys.
"I thought anything today in the red would be good given the forecast ... I was able to do it but I didn't think there would be that many guys four under or better," Woods said after his lowest opening round score in a major championship since 2012.
Four-times major champion Koepka, who fell short of a third consecutive U.S. Open title last year, said he was very relaxed during a round in which he made six birdies and two bogeys.
"The majors almost seem like an easier week for me, nine holes pretty much every day in the practice rounds and try to stay off my feet and not do too much," said Koepka. "I think sometimes guys ... practice a little too much."
Jordan Spieth, in his latest bid to become the sixth person to complete golf's career Grand Slam with victories in all four major championships, opened with a three-over-par 73.
World number one Justin Thomas (71) and Northern Ireland's Rory McIlroy (70) both struggled in their group with Woods.
Thomas had two double bogeys after making the turn but managed a 10-foot birdie putt on his last while McIlroy stumbled early with three consecutive bogeys and finished at even par.
Tough to stay focused at spectator-free events: Rahm
Crowd noise can often be a distraction for golfers but world number two Jon Rahm says the absence of spectators during PGA Tour events has made it tough to focus.
The PGA Tour resumed in June after an extended break with events closed to spectators to help curb the spread of the novel coronavirus.
Golf's first major of the year, the PGA Championship, kicked off on Thursday and Spaniard Rahm, who carded a par-70 in the opening round, said he was still getting used to playing without fans.
"I would say people don't realize how much you can hear things," the 25-year-old said.
"You might be putting and if somebody nearby is hitting a tee shot or landing it into a green close to you, you can hear that. It's just so loud.
"When there's people around, there's talking, other noises, you can't hear. But right now it's pretty loud."
Rahm, who relinquished his number one ranking to Justin Thomas last week, struggled for rhythm throughout the opening round and finished five shots behind joint-leaders Brendon Todd and Jason Day.
"With how the day went, honestly, even par is more than enough for me today," he said.
IOC and JOC discuss measures to eradicate harassment, abuse in sports
The International Olympic Committee (IOC) and the Japanese Olympic Committee (JOC) reconfirmed the importance of eradicating abuse in the sports world and exchanged opinions on specific measures.
As cited in the Olympic Charter, abuse in sports coaching is not permissible and acceptable. As a role of a National Olympic Committee, the JOC reconfirms the importance to protect the Olympic Values along with relevant stakeholders for a better Japanese sports community.
"In light of incidents in the past, various efforts have been made to eliminate abuse in the sports world. For example, the JOC has enacted regulations regarding abuse and has established a consultation hotline toward the elimination of abusive conduct in sports. In addition, since the year before last, the JOC has conducted various training about integrity and compliance with approximately 300 elite coaches and staff members," JOC said in a statement.
The Governance Code for Sports Organisations established last year requires National Sports Federations (NFs) to implement compliance education for athletes and coaches, and abuse and harassment are also to be addressed.
The JOC, along with the Japan Sports Association (JSPO) and Japanese ParaSports Association (JPSA) will start screening on whether NFs comply with the code.
Together with each NF and other relevant bodies, the JOC will continuously exert the utmost effort to revert to the fundamental understanding of wiping abuse from elite sports activities. The IOC promised to share information on best practices from different countries and to continue these exchanges of information.