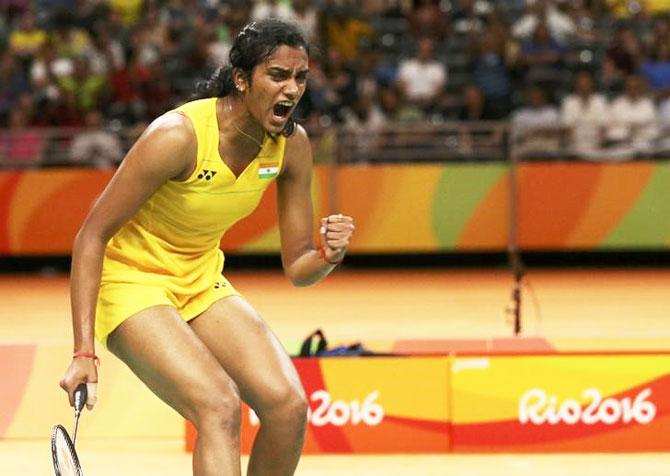 IMAGE: India's P V Sindhu during her women's singles gold medal match against Spain's Carolina Marin at the Rio Olympics on Friday . Photograph: Ruben Sprich/reuters.
India's biggest sporting legends Sachin Tendulkar, Abhinav Bindra and Vishwanathan Anand hailed P V Sindhu on her valiant performance in the women's singles final against world number one Carolina Marin at the Rio Olympics.
Bindra, in a post on Twitter, said he wasn't as heartbroken after missing out on a medal himself at the Games as was after Sindhu's defeat.
India's only individual Olympic gold medallist, who won the men's 10m Air Rifle event at the Beijing Olympics in 2008, tweeted: "I think I'm more heartbroken today than I was a week ago! Well played @Pvsindhu1 you are an inspiration to me!"
Tendulkar, who has posted inspiring messages for all the Indian athletes, wrote: "Well played India's youngest individual @Olympics medal winner @Pvsindhu1. You have won our hearts with the splendid performance."
Chess legend Viswanathan Anand tweeted: "Well done #PVSindhu. its very little that separates a winner & a finalist. Proud of you. Enjoy the silver. Well deserved"
India's only tennis medallist Leander Paes said the Hyderabad girl should be proud of her achievement.
"@Pvsindhu1 you should be very proud of yourself, all of India is!! the way you played & fought hard, true warrior!! Congrats," Paes wrote.
Multiple World cue-sport champion Pankaj Advani is happy that Sindhu gave Marin a run for her money.
"Take a bow PV Sindhu. You gave the World Champ a run for her money. You've won all our hearts??" Advani tweeted.
India's boxing superstar Vijender Singh wrote: "Apart from the #Silver #PVSindhu, you have won hearts of a billion ppl and developed interest in badminton amongst millions. Mera Naman aapko (I salute you)"
Multiple doubles Grand Slam champion Mahesh Bhupathi said:"You are my Hero @Pvsindhu1 ...amazing fighting qualities...."
Bollywood superstar Amitabh Bachchan was also ecstatic with the shuttler's performance.
"#PVSindhu you played your heart out ! All of India is so so proud of you.. Thank you for giving us that moment of pride !!!," he tweeted.
India's hockey captain P R Sreejesh termed the silver as something equivalent to gold.
"This silver is equal to gold for us ...@Pvsindhu1 you are a real fighter"
Olympian and World Championship medallist Shiva Thapa: "Congratulation @Pvsindhu1 on winning the silver medal in #Rio2016."