Gagan Narang fails to make final.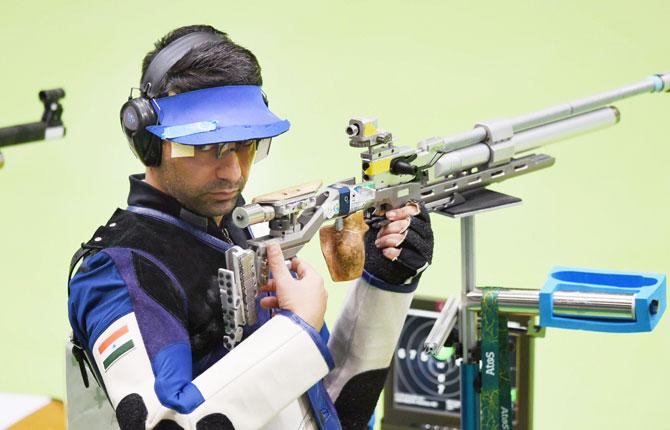 IMAGE: India's Abhinav Bindra competes in the men's 10m Air Rifle event at the Rio Olympics on Monday. Photograph: Atul Yadav
Abhinav Bindra narrowly missed a medal in the men's 10m Air Rifle event at the Rio Olympics, losing a nail-biting shoot-off against Ukrainian marksman S Kulish after the two were tied third at 163.8 in the race to reach the medal round.
India's only individual Olympic gold medallist, at the Beijing Games in 2008 in the same event, lost the one-shot elimination against Kulish, who went on to win the silver with a score of 204.6.
Italy's Niccolo Campriani won gold with a score of 206.1.
The Indian ace, participating in his fifth and perhaps last appearance in the Olympics, was placed second at one stage in the eight-man final in which one shooter gets eliminated gradually, leading to the final two men standing in the face-off for the gold after the 20th shot.
He was level with Kulish in third place with 163.8 points after 16 shots. However, he scored just 10.0 in the shoot-off while his opponent got 10.2.
The Zirakpur-based shooter had finished seventh in the qualifying round to make the cut for the final while his compatriot and London Olympics bronze medallist Gagan Narang was way off the mark and missed out of the final after finishing a lowly 23rd.
Bindra scored 625.7 to book a berth in the final.
Campriani Niccolo of Italy topped the qualification round with a score of 630.2, an Olympic record.

Bindra, who had a 16th place finish in the 2012 Games at London, scored 104.3, 104.4, 105.9, 103.8, 102.1 and 105.2. His last series of 105.2 proved to be the clincher, having raised his game when it mattered the most.

Narang made a strong start with scores of 105.3 and 104.5 in the first two series, rising to second place, before losing his way after scores of 102.1, 103.4. 101.6 and 104.8 in the last four.
The qualification round consisted of 60 shots in six rounds.
Narang will compete in two more events -- the 50m rifle prone on August 12 and 50m rifle 3 positions on August 14.