World Champion Viswanathan Anand was shocked by Levon Aronian of Armenia in the ninth and penultimate round of the fourth Final Masters as he slipped to the last spot with just one round to go in the category-22 super tournament in Bilbao.
World number one Magnus Carlsen of Norway completed his second victory in as many games against tournament leader Vassily Ivanchuk of Ukraine to emerge as the joint leader on 14 points in the soccer-like scoring system being used. 
Ivanchuk, who enjoyed a three-point lead coming into this round, ran in to a determined Carlsen who came with some imaginative manoeuvres to jump to joint lead after being wayward in the first half of the tournament played at Sao Paulo in Brazil.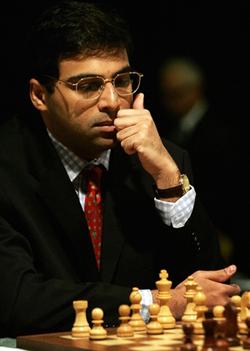 The shocker of the day came from none other than lowest ranked Francisco Vallejo Pons of Spain who proved yet again that he is no-mug when it comes to handing "big boys" of the game. 
Pons, who had earlier beaten Carlsen and Ivanchuk in the tournament, perplexed Hikaru Nakamura of United States, who was declared lost on time on move 40 in a position, which was quite defendable. 
With just one round to go, Ivanchuk has the better chance of annexing this tournament as he plays Aronian with white in the final round game. 
Carlsen will have to tackle Nakamura with black, while Anand has white in his last game against Nakamura.
For the records, Ivanchuk on 14 points shares the lead with Carlsen while Nakamura is still three points behind the leaders on 11 points along with Aornian. 
Pons holds the sixth spot in the six-players double round-robin tournament on 10 points while Anand is now last on nine points in all. 
For once, Anand completely lost focus in his game. Playing the black side of a Queen gambit declined, Anand faced some opening problems and once he was unable to sort them out, he caved in quickly.
© Copyright 2022 PTI. All rights reserved. Republication or redistribution of PTI content, including by framing or similar means, is expressly prohibited without the prior written consent.