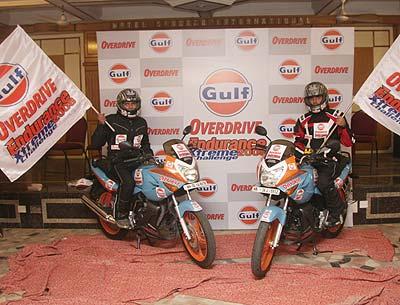 Riders Karanbir Singh and Pankaj Trivedi rode their way into the Limca Book of Records (validation by Limca Book of Records awaited) by successfully completing the run from Kanyakumari, India's southernmost tip to Khardungla, the world's highest motorable road up in the Himalayas, in 5 days, 5 hours and 45 minutes. The bikers accomplished the feat on Hero Honda Karizmas protected by Gulf Pride 4T Plus 10W-30, the new 4 stroke engine oil from Gulf Oil with Pentatec Advantage.
Karanbir and Pankaj traversed a distance of about 3,874 kms across 9 Indian states and 22 cities, and in the process demolished the existing record of 7 days, 1 hour and 45 minutes, up to Leh. Not only have the bikers broken this record, in going up to Khardungla, they have also set a new extended record.
Limca Book of Records is in the process of validating these records.
A true test of endurance under extreme conditions, testing the endurance of the riders, bikes, components and lubricants, the Gulf OVERDRIVE Endurance Xtreme Challenge 2008 was flagged off at Kanyakumari on May 27 evening. Karanbir and Pankaj rode non-stop for 27 straight hours and reached Hyderabad at 2 am on day two. A few hours of sleep later the determined riders were on the road again riding under the scorching sun of Andhra Pradesh, Maharshtra, Madhya Pradesh and Uttar Pradesh, braving day time temperatures above 40 degrees Celsius.
Another short nap and the bikers found themselves battling adverse road conditions en route to Jammu & Kashmir. Transitioning from the scorching sun to the biting chills of the mountains is no mean feat; the determined riders navigated their way through gruelling mountain roads before arriving at Khardungla on the morning on June 2.