Bayern's Gnabry and Roca out of Paris St Germain clash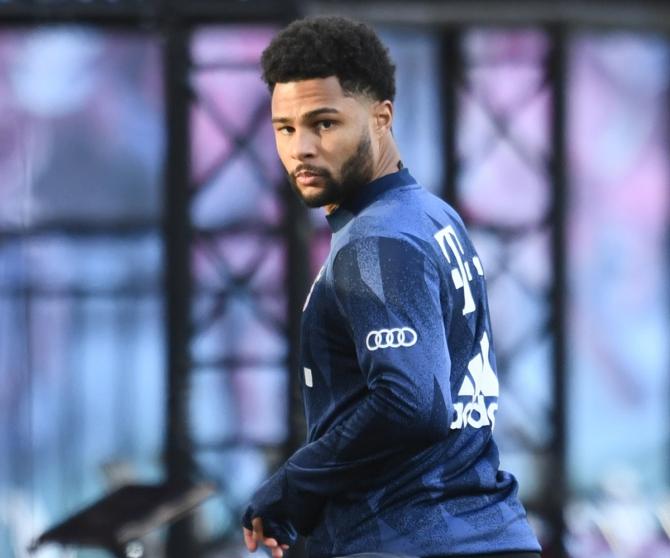 Bayern Munich winger Serge Gnabry has been ruled out of Wednesday's Champions League quarter-final first leg against Paris St Germain after testing positive for COVID-19 while midfielder Marc Roca will miss the game due to injury.
The Bavarians are brimming with confidence, even without injured top striker Robert Lewandowski, having beaten second-placed RB Leipzig 1-0 on Saturday to open up a seven-point lead at the top of the Bundesliga table.
Bayern have also won their last seven games in all competitions and scored 23 goals.
Manager Hansi Flick, who has led the Bavarians to six trophies in the last 10 months including the Champions League, said Spaniard Roca suffered an injury on Sunday and was out.
Flick had said Gnabry was unlikely to be included due to a sore throat, but the club later revealed the 25-year-old German had tested positive and was quarantining at home.
The two sides met in last year's Champions League final with Bayern winning the trophy but that counts for little now, said Flick.
"Paris are a new team with a new coach," he said. "I don't think that game matters anymore. We want to reach the semi-finals and the final. That is our aim."
"They have a solid defence, a very good goalkeeper, but up front they have enormous quality."
Flick said Bayern would have to press the French quickly when they attacked and beware of the speed of Neymar and Kylian Mbappe if they lose possession.
"There is this enormous quality they have, and if we lose possession then we have to stop them quickly. We also have to put them under pressure early."
Even though PSG are missing half a dozen players, including Alessandro Florenzi and fellow Italy international Marco Verratti through coronavirus infections, Bayern will need to be sharper in attack than against Leipzig.
"We have to be confident in our attack, a bit more decisive than Leipzig and also be strong from the start."
"We will get our chances but we have to play them out better than against Leipzig," he said.
Bernardeschi becomes sixth Italy player to test positive for COVID-19
Juventus forward Federico Bernardeschi has become the sixth Italy player to test positive for COVID-19 since the international break, the Serie A champions said in a statement on Tuesday.
There are growing concerns over the number of cases among the Italy squad, who played three World Cup qualifiers in the last two weeks.
Bernardeschi, who is in isolation and asymptomatic, follows Cagliari goalkeeper Alessio Cragno and Paris St Germain defender Alessandro Florenzi as players to have contracted the virus, after their positive results were revealed on Monday.
Florenzi's PSG team mate and fellow Italy international Marco Verratti will also miss the Champions League quarter-final first-leg clash with Bayern Munich on Wednesday, after testing positive on Friday.
Bernardeschi is the second Juve player to go into isolation after Leonardo Bonucci also contracted the virus, while Torino said on Monday that an unnamed player had tested positive there as well.
Four members of the Italy team staff tested positive last Wednesday.
As a precaution, Serie A side Sassuolo have left Italy players Gian Marco Ferrari, Manuel Locatelli, Domenico Berardi and Francesco Caputo out of the squad for Saturday's league game against AS Roma.
Italy has registered more than 110,000 deaths linked to COVID-19 since February last year, the second-highest toll in Europe after Britain, with hundreds dying each day according to recent data.
Real Madrid's Varane tests positive for COVID-19, will miss Liverpool game
Real Madrid defender Raphael Varane had tested positive for COVID-19, the Spanish club said, ruling him out of the Champions League quarter-final first leg against Liverpool on Tuesday.
The 13-times European champions will be without both first- choice central defenders for the game against Liverpool and probably the second leg at Anfield on April 14, as captain Sergio Ramos is sidelined due to injury.
Zinedine Zidane is set to field Spaniard Nacho Fernandez alongside Brazilian Eder Militao at the heart of his defence in the first leg, a repeat of the 2018 Champions League final which Real won 3-1.