The Bhupathi-Melzer pair lose in straight sets to Argentine team of Diego Schwartzman and Horacio Zeballos in their first round encounter.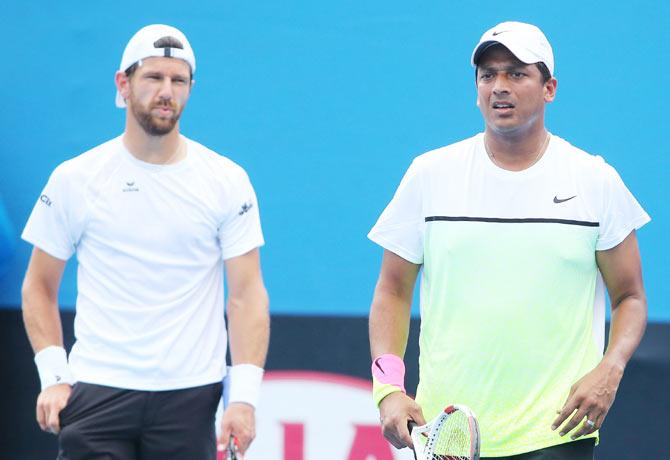 Mahesh Bhupathi of India and Jurgen Melzer of Austria in action in their first round doubles match against Diego Schwartzman of Argentina and Horacio Zeballos of Argentina during the 2015 Australian Open at Melbourne Park on Thursday. Photograph: Patrick Scala/Getty Images
India's Mahesh Bhupathi and his Austrian partner Jurgen Melzer crashed out of the men's doubles event of the Australian Open after suffering a straight-set defeat against Argentine team of Diego Schwartzman and Horacio Zeballos, at Melbourne Park on Thursday.
Bhupathi and Melzer lost 4-6, 3-6 in a first round match lasted only 67 minutes.
Bhupathi continued to struggle in his comeback as he returned to on-court action after a nine-month break during which he set up IPTL.
He played his first tournament at Chennai Open where he had lost in the second round with compatriot Saketh Myneni.
Bhupathi and Melzer committed a staggering 27 unforced errors against just nine by their opponents.
The first set was a close affair with both teams holding serve till the ninth game. Bhupathi was terrific at the net, specially with his wristy drop volleys.
The 6 feet 2 inch Zeballos was serving bombs it was his service that proved to be the difference eventually.
On Melzer's serve, the Indo-Austrian pair saved the first two but Melzer sent a forehand to net on the third chance and threw his raquet in frustration.
In an ominous start to the second set, Bhupathi was broken in the second game. Schwartzman hit a service winner to make it deuce and the Indian only helped the rivals by double faulting, which put them down by a break point.
The Argentines got the break thanks to an unforced error by Bhupathi.
Schwartzman served solid to make it 3-0. Bhupathi and Melzer had a chance to get that break back on Zeballos' serve but the tall southpaw yet again came up with big serves to save both. In just 19 minutes they had a commanding 4-1 lead.
Bhupathi and Melzer held their serves after that but the lead stayed with the Argentines and they easily pocketed the set and the match.
Bhupathi's forehand went wide to hand the Argentines two match points and they converted first when a double-handed backhand by the Indian kissed the net.