Taking potshots at the All India Tennis Association, senior pro Mahesh Bhupathi, on Thursday, said he is not sure of pairing with Sania Mirza in the mixed doubles event of the London Olympics because of the national body's "funny politics".
Click here for Rediff Realtime News!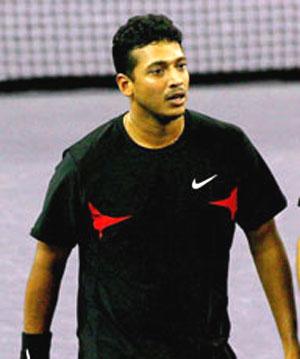 Bhupathi lashed out at AITA since it did not pair him with Sania for the 2010 Commonwealth Games despite the fact they make a very successful pair on court.
They had won the Australian Open mixed doubles title in 2009 and also reached the final once.
Bhupathi pleaded ignorance when asked if fans will see him and Sania competing in London.
"Funny enough, the politics of our association are so that we really don't know," Bhutpathi said.
Sania was paired with Bhupathi's former doubles partner Leander Paes for the 2010 CWG and they lost in the quarter-finals to eventual winners Jocelyn Rae and Colin Fleming from Scotland.
"Sania and me won two years ago at the Australian Open and still for the Commonwealth Games, they did not put us together. So as far as the Olympic goes, it is anyone's guess who is going to play with Sania. As far as the Grand Slam goes, we are going to try and win another title," he added.
Bhupathi and Sania are seeded sixth in the mixed doubles event of this Australian Open and will open their campaign against South Africa's Natalie Grandin and Jean-Julien Rojer of Netherlands Antilles.