Dronacharya awardee coach Syed Nayeemuddin led a bunch of former football stars in lashing out against just-retired Bhaichung Bhutia, accusing him of conspiracy during the AFC Asian Cup qualifiers in 2006.
On Wednesday, when Bhutia announced his retirement in New Delhi, Nayeemuddin, who was sacked unceremoniously after India's defeats against Japan and Yemen, blamed Bhutia for the debacle and demanded a CBI inquiry into the matches held five years ago.
Former India defender Subrata Bhattachara and Dhyan Chand awardee Shabbir Ali, too, were critical of the 'Sikkimese Sniper', blaming the media for making him the face of Indian football.
- 'I had fantastic 16 years of international football'
Accusing Bhutia of rigging the match against lower-ranked Yemen, Nayeemuddin said: "He conspired with the players and did not allow the goalkeeping coach (Atanu Bhattacharya) to be present in a team meeting. He got it over with six to seven players of the team."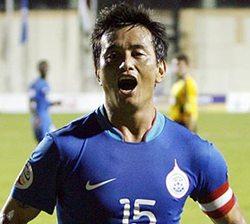 Calling him a "traitor", Nayeemuddin said: "He has ditched the country and now he is being projected as a football icon in India. Let there be CBI inquiry and I should be killed if they found me guilty."
"No player is bigger than country and he is no exception. It was unbelievable," he added.
Nayeemuddin ranked IM Vijayan ahead of Bhutia.
"On any given day, Vijayan was better. He was disciplined and more talented. Players like him could have played minimum five years more, with 100 per cent better performance than Bhutia. He was a team man and technically more sound," Nayeemuddin said about the Kerala stalwart.
Bhutia, incidentally, was on the verge of retirement in 2006 after India had a string of poor shows under coach Nayeemuddin with whom he had serious differences, but he changed his mind after a request by then AIFF president Priya Ranjan Dasmunshi.
Two-time Santosh Trophy-winning coach Shabbir Ali said India's ranking would not have slipped so much if Bhutia was an all-time great.
"I am not saying he was not a good player. During his time, he was the star. He was like us only. Calling him the face of India football is nothing but a media creation.
"Had it been so, India's performance would have been different and we would not be languishing at the bottom of the rankings.
"There were many good players during his time who did not get chance, but he excelled. We played international matches against all top teams and with good results. But he played against all the third division teams in Dubai, Portugal and came losing.
"And everybody knows what happened during the Asian Cup where he played with injury and deprived a place in the side with the federation (AIFF) becoming the laughing stock," Ali alleged.
Former Mohun Bagan defender Subrata Bhattacharya said Bhutia should have quit earlier.
"There was no performance of him in last four five years. He should have retired much earlier. It was a bad timing. He called it quits after not being able to play.
"Media have made him an icon. He is like David Beckham, who is a good PRO, knows how to present himself. I don't think he was a good footballer at all. He was never an entertainer.
"Yes, he scored many goals, but most of them against nations like Nepal, Bangladesh, Bhutan, Maldives," Bhattacharya said.
© Copyright 2022 PTI. All rights reserved. Republication or redistribution of PTI content, including by framing or similar means, is expressly prohibited without the prior written consent.