With racial discrimination and tragedies, the sports world saw a lot of ups and downs on field and off it.
Rediff.com brings you the second instalment of the Best Sports Photos of the Year!
DON'T MISS: BEST Sports Photos of the Year! (Part 1)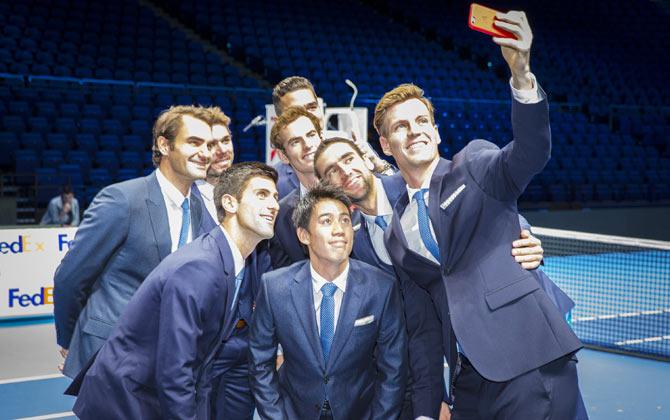 Tomas Berdych takes a group selfie with Stan Wawrinka, Milos Raonic,Novak Djokovic,Kei Nishikori, Andy Murray, Roger Federer and Marin Cilic after the men's singles official group shot prior to the start of the Barclays ATP World Tour Finals tennis previews at the O2 Arena in London on November 7. Photograph: Clive Brunskill/Getty Images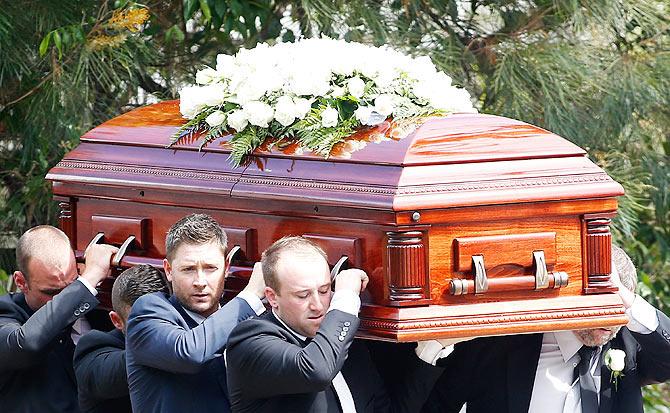 Australian Test Cricket captain Michael Clarke and Jason Hughes carry the coffin of Australian cricketer Phillip Hughes during the funeral service in Macksville, near Sydney on December 3. Hughes died on November 27 after being struck by a bouncer during a Sheffield Shield match two days earlier.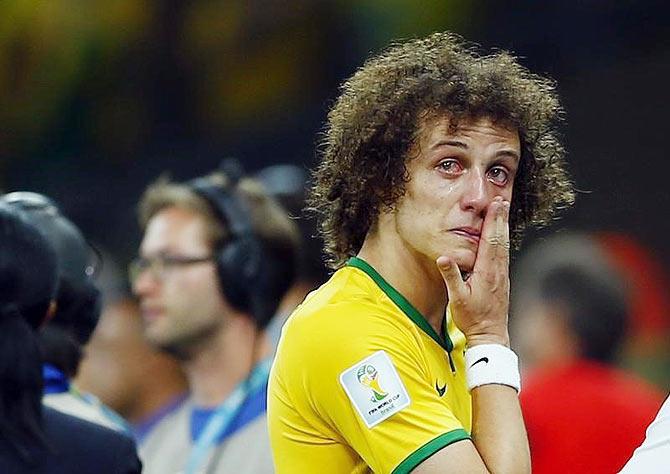 Brazil players crying Image: Brazil's David Luiz cries after his team lost 1-7 to Germany in their 2014 World Cup semi-finals at the Mineirao stadium in Belo Horizonte on July 8. Photographs: Eddie Keogh/Reuters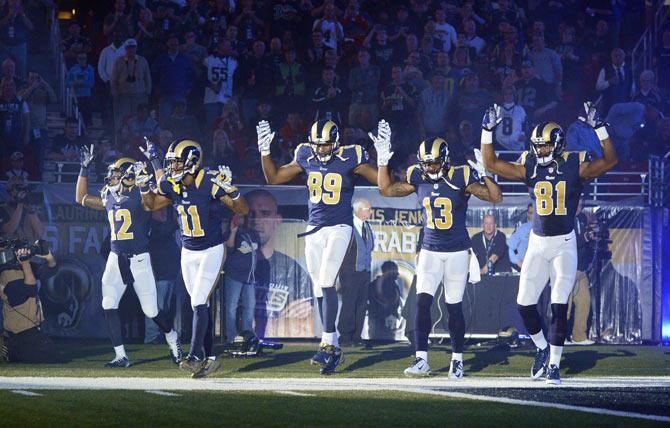 St. Louis Ram football team's Stedman Bailey (12), Tavon Austin (11), Jared Cook (89), Chris Givens (13) and Kenny Britt (81) put their hands up to show support for Michael Brown before a game against the Oakland Raiders at the Edward Jones Dome in St Louis, Missouri on November 30. Eighteen-year-old Michael Brown, an African-American, was fatally shot by a white policeman Darren Wilson on August 9, 2014, in Ferguson, Missouri, a suburb of St. Louis. The shooting of occurred on August 9, 2014, in Ferguson, Missouri, a suburb of St. Louis. Brown, an 18-year-old man, was fatally shot by Darren Wilson, 28, a Ferguson police officer. Racial tensions escalated in the area following the shooting. The episode recieved worldwide media coverage. Photograph: Jeff Curry-USA TODAY Sports/Reuters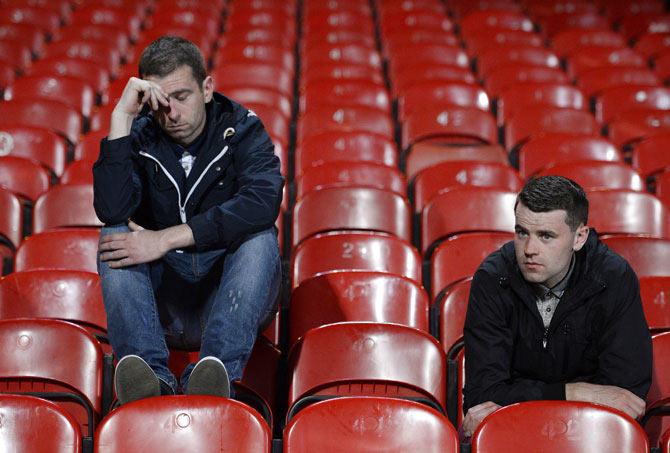 Liverpool fans react following their English Premier League match against Crystal Palace at Selhurst Park in London May 5, 2014. Liverpool dropped points in a 3-3 draw at Crystal Palace to effectively end their challenge for the 2013-14 English Premier League title. Photograph: Dylan Martinez/Reuters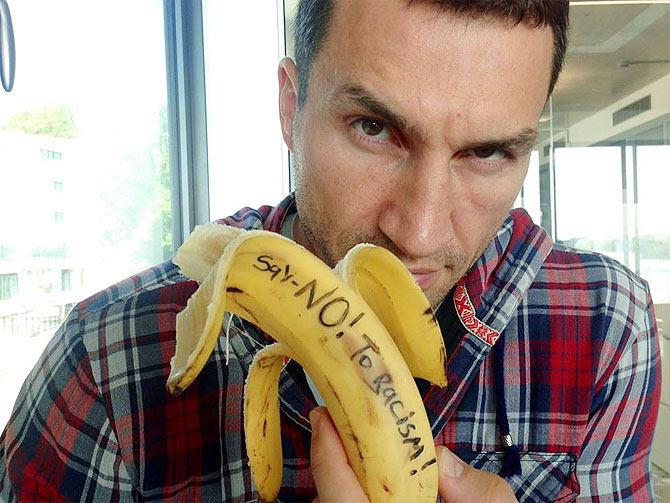 World Boxing Heavyweight Champion Wladimir Klitschko with an anti-racism statement on a banana skin. In a unique show of solidarity, sportsmen from around the globe stood together in support of FC Barcelona's Brazilian defender Dani Alves who was victim of racist taunt involving a banana during a La Liga match against Villareal on April 28. Alves, who has previously taken a stand against racism at matches in Spain, grabbed the banana thrown in front of him onto the pitch, quickly peeled it and took a bite before tossing away the skin and completing the kick. Photograph: Wladimir Klitschko/Facebook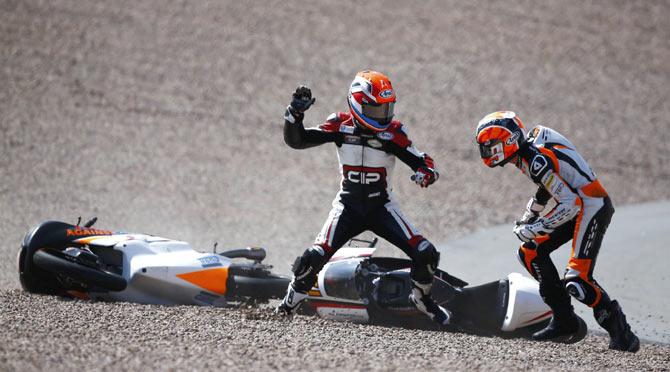 Mahindra Moto3 rider Bryan Schouten of the Netherlands fights with compatriot Kalex KTM Moto3 rider Scott Deroue (right) after they crashed during the German Grand Prix at the Sachsenring circuit in the eastern German town of Hohenstein-Ernstthal on July 13. Photograph: Thomas Peter/Reuters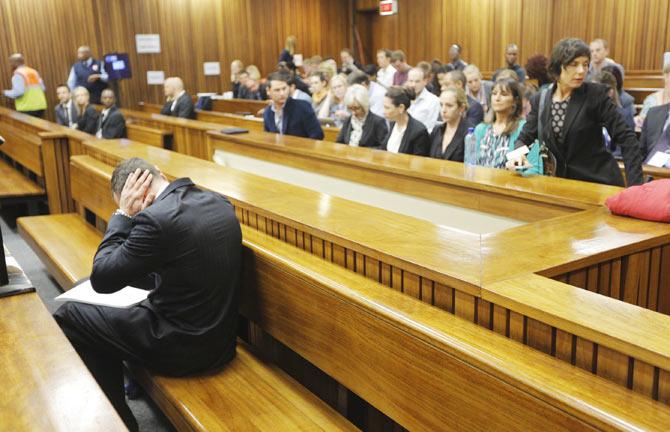 Oscar Pistorius sits in the dock ahead of the second day of the murder trial at the North Gauteng High Court in Pretoria, on March 4. Photograph: Kim Ludbrook/Pool/Reuters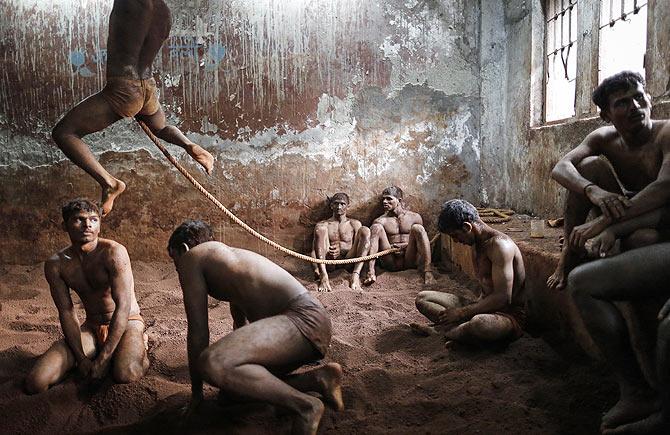 Wrestlers practise as others rest in the mud at a traditional Indian wrestling centre called Akhaara in Mumbai on March 4. Kushti (mud wrestling) is a traditional sport in India but more and more young athletes are now training to wrestle on mats instead of mud to gain access to top international competitions like the Olympic Games or the Commonwealth Games. Photograph: Danish Siddiqui/Reuters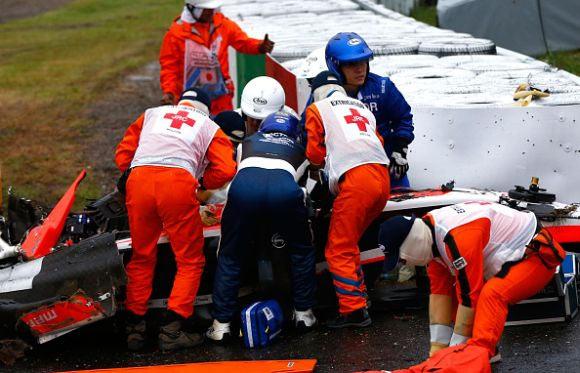 Jules Bianchi of France and Marussia receives urgent medical treatment after crashing during the Japanese Formula One Grand Prix at Suzuka Circuit on October 5. Photograph: Getty Images