'If you don't produce quality coaches, you cannot produce next level of players'
'To have people committed, motivated in working over a period of time which is probably eight to ten years is a tough job'
'Our challenge is that coaching is not looked at the way it should be looked at'
'Indian physique is conducive for sports'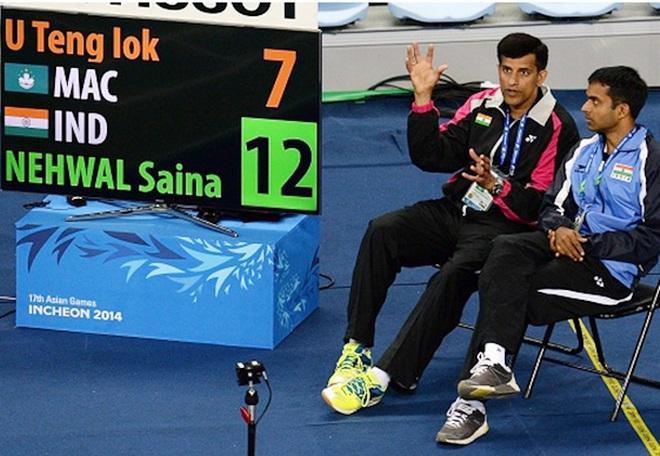 Pullela Gopichand with Vimal Kumar. Photograph: Getty Images
Indian national badminton coach Pullela Gopichand's wards are increasingly reaching weekend rounds of tournaments, which makes it impossible for him to be by different courts simultaneously.
Indian badminton may be basking in glory with Kidambi Srikanth and Saina Nehwal winning the China Open but Gopichand warned that it would be difficult to produce next level of world-class shuttlers if the country fails to attract great coaches.
The former All England Champion reckoned that getting the new crop of players to stay committed and motivated over a period of time, and attracting quality coaches are going to be twin challenges facing Indian badminton going forward.
"While there is plenty of talent and ideas in the country, what's important is execution part and work ethics adherence," he said at 'Youth Conclave', organised by Confederation of Indian Industry Young Indians.
"To produce the next level of players is the toughest job. Infrastructure building is the easiest part of the entire structure. To have people committed, motivated in working over a period of time which is probably eight to ten years is a tough job," he said.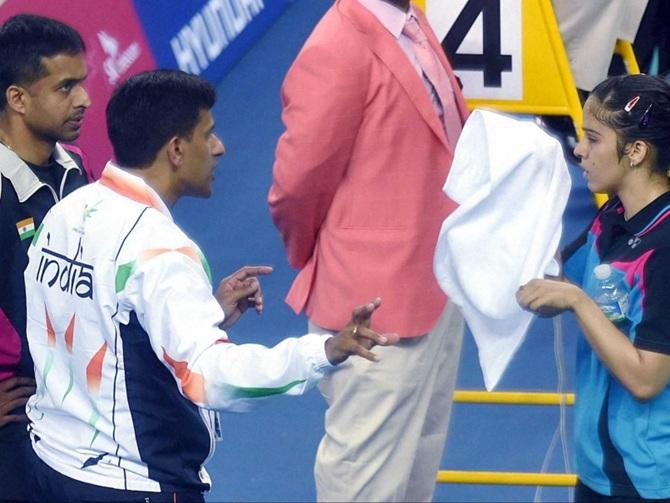 Pullela Gopichand and Vimal Kumar with Saina Nehwal. Photograph: PTI
Gopichand underlined that unless coaching becomes very lucrative and rewarding people are not going to take up this profession.
"Unless you have great coaches, you cannot have great pupils or students coming in. At the moment, our challenge is that coaching is not looked at the way it should be looked at. The best minds don't get into coaching," he said.
"India won about 60 medals in the last Asian Games, but how many coaches' names we know?" he asked.
"If you don't produce quality coaches, you cannot produce next level of players," Gopichand said, stressing the need for a shift in the 'thinking process' and putting 'coaching aspects' at a different level.
Gopichand said Saina and Srikanth winning the women's and men's singles titles in the recent China Super Series Premier in Fuzhou is unprecedented.
"This hasn't happened in Indian sport ever before. Indian national anthem being played and national flag being hoisted twice in a day in badminton in China, where badminton is almost a national sport, is huge.
"I feel that this is it; there cannot be better than this. For the country to move forward, pride is important and sports brings that much needed pride in us," he said.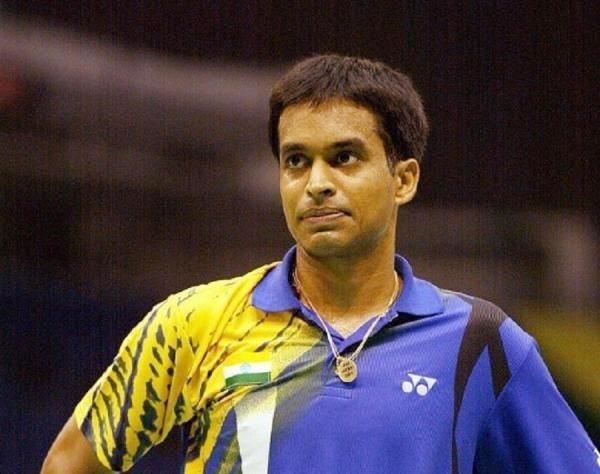 Pullela Gopichand. Photograph: PTI
Noting that he started coaching in 2004, Gopichand said most of the corporates he approached for funding had laughed when he shared his dream of producing Olympic medal winners by opening up an academy.
During subsequent years, when he had funds crunch, he had to mortgage his house to run the academy, he pointed out, adding, things have changed today and badminton is now looked in a different light.
He debunked perception in some quarters that Indian physique is not good enough to become world-class athletes.
"People say we are not Mongolites, who jump faster and run faster, and they are built for it; and we are not. And I say we are built for it. Indian physique is conducive for sports," he said.