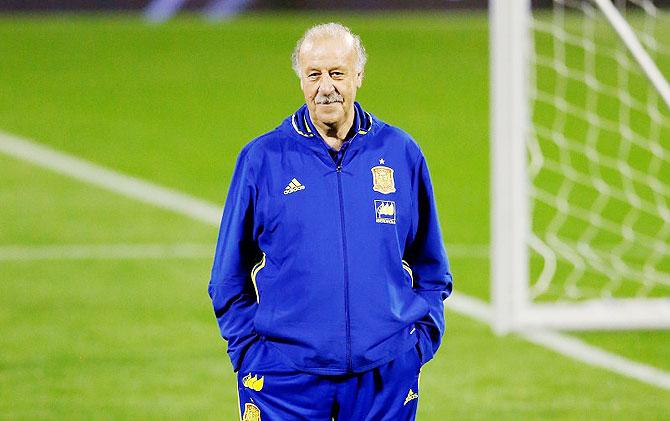 IMAGE: Spain coach Vicente del Bosque during training session. Photograph: Carl Recine Livepic/Action Images via Reuters
A soccer friendly between Belgium and Spain scheduled for Brussels on Tuesday has been postponed for security reasons after the Paris attacks, the Belgian soccer federation said in a statement.
"The URBSFA (federation) was contacted by the government this evening and advised not to organise the Belgium-Spain match tomorrow evening," it said in a statement late on Monday.
The statement, in French, said the game had been cancelled though a tweet from the URBSFA official English account said it had been only postponed.
They added more information would be made available to ticket holders later this week.
The statement explained the advice was due to the current state of high alert and a Belgian-based French suspect from Friday's attacks being on the run.
"We deeply regret that such a friendly match between two motivated teams is cancelled so late and we understand the disappointment of many supporters," the statement added.
"Taking into account the exceptional circumstances, we cannot however take any security risk for our players and fans."
The match had already been thrown into doubt following Friday's attacks in Paris, particularly after investigators identified a Belgian national as the possible mastermind, with Brussels seen as the springboard.
France were playing Germany in Paris last Friday as a wave of attacks hit the city, killing at least 129 people.
The friendly match at the Stade de France was targeted by some of the attackers though they did not get into the stadium.
The French side will play England in London on Tuesday.
Major sporting events throughout France were suspended at the weekend.
Murray plays down security fears for Davis Cup final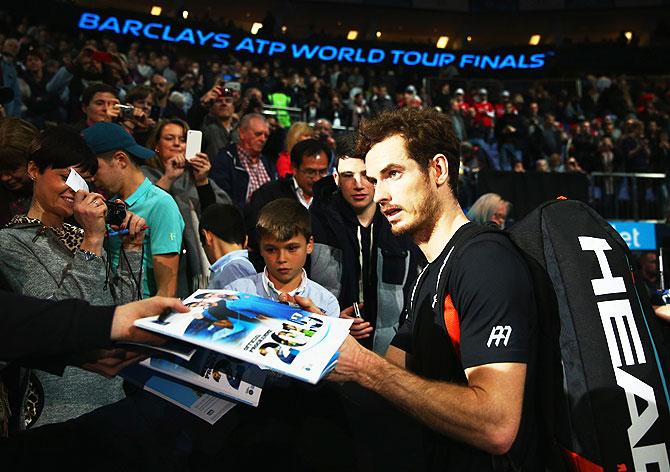 IMAGE: Great Britain's Andy Murray signs autographs after his men's singles match against Spain's David Ferrer on Monday. Photograph: Clive Brunskill/Getty Images
Andy Murray said he would put security concerns about next week's Davis Cup final in Belgium to the back of his mind despite several arrests near Brussels in connection with last Friday's deadly attacks in Paris.
Police in Belgium's capital have detained two suspects in connection with the attacks while a Belgian national living in Syria has been identified as the possible mastermind.
The Davis Cup final takes place in Ghent, about 50km from Brussels, and Murray was asked at the ATP World Tour Finals on Monday whether he was concerned.
"I think everybody right now is concerned about things," the 28-year-old told reporters.
"But I do think the best thing that we can do is to live our normal lives, not change too much, because then the terrorists are the ones that are winning.
"We need to go out there and do what we always do and try not to change too much. That's all we can do. I don't want to live my life in fear each time I step on a tennis court."