Formula One leader Nico Rosberg swept to pole position at the Belgian Grand Prix on Saturday with Mercedes team mate and title rival Lewis Hamilton alongside on the front row after a wet qualifying session.
Red Bull's four-times world champion Sebastian Vettel, last year's winner at the circuit in the Ardennes forests, qualified in third place and was joined on the second row by Ferrari's Fernando Alonso.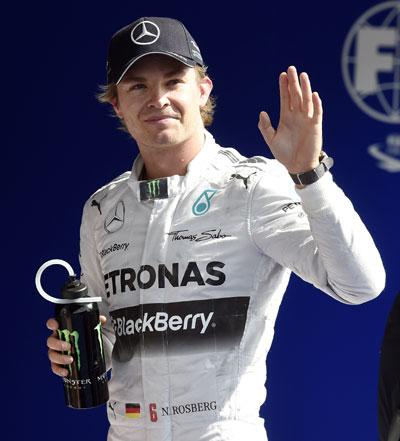 Rosberg leads 2008 world champion Hamilton by 11 points after 11 of 19 races.
The pole was Rosberg's seventh of the season, with dominant Mercedes taking 11 of the 12 so far, fourth in a row and 11th of his Formula One career.
It was also his first at Spa in typically tricky conditions and reinforced his team's pace, with Rosberg's pole time of two minutes 05.591 seconds comparing to Vettel's best lap of 2:07.717 - a hefty margin.
"It's awesome. This is one of the most special tracks of the year so to be in front here is great," said the German. "It's always difficult on this track in the wet.
"We have a great car here. We are leading the way. We definitely have really good chances for tomorrow."
Hamilton, a winner in Belgium in 2010, had been quickest in the second phase of qualifying and the front row start, while not pole, at least ended a long run of qualifying setbacks.
"I'm just happy to be up here," said the Briton, who started the previous race in Hungary last and from the pit lane but still finished third and ahead of Rosberg at the chequered flag.
"I had a glazed front left brake disc so the car was pulling to the left or to the right, and there was nothing I could do on the out lap to get rid of that...I had to bring the braking point a little bit further back, and I was losing massive amounts out of turn one."
Australian Daniel Ricciardo, winner in Hungary, qualified fifth for Red Bull with Finland's Valtteri Bottas alongside in a Williams.
Danish rookie Kevin Magnussen was seventh for McLaren with Ferrari's four times Spa winner Kimi Raikkonen eighth and Brazilian Felipe Massa ninth for Williams.
At the back of the grid, Germany's three times Le Mans winner Andre Lotterer made his qualifying debut at the age of 32 and was nearly a second quicker than Swedish rookie team mate Marcus Ericsson in the other Caterham.
The German did however benefit from updates that Ericsson did not have.
Frenchman Jules Bianchi continued to impress for Marussia, qualifying 16th and ahead of Venezuelan Pastor Maldonado in the Lotus and Germany's Nico Hulkenberg for Force India.
Image: Mercedes Formula One driver Nico Rosberg of Germany celebrates his pole position after the qualifying session at the Belgian F1 Grand Prix in Spa-Francorchamps
Photo: Laurent Dubrule/Reuters