Olympic softballers hunt roaming bear, no luck finding it so far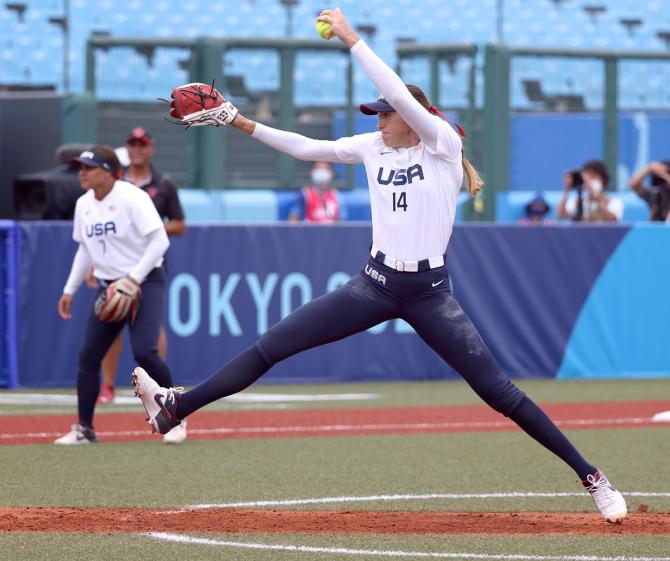 US softball pitcher Monica Abbott had one regret on a day she threw a dazzling shutout to beat Canada: She had no idea she was supposed to be on the lookout for a bear.
Locked in for her Tokyo Olympics start on Thursday, Abbott must have missed headlines late Wednesday in which local authorities said security near Fukushima's softball venue saw a brown bear two consecutive mornings this week.
"I'm kind of disappointed I didn't get to see it," Abbott, who has played in Japan's national league since 2009, told a news conference after her start.
Teammates and coach Ken Eriksen treated the bus ride to the stadium like a tour back home of Yellowstone National Park.
"We were actually looking to see if we could find another bear," said Eriksen, who comes from Florida. "We don't have a lot of bears back where we are at."
Amanda Chidester said she woke up to text messages about the unexpected visitor at a Games where spectators are banned.
"I was able to report back to my family and say it is indeed true there was a bear in the area," Chidester said, though she did not lay eyes on one herself.
Set against the Arakawa River near the Azuma mountain range, the sprawling sports park includes a gym and an athletics stadium. Trees stand inches away from the softball venue's outfield fences, giving any bears an entryway if they can sneak past security roaming the bleachers.
Japan's bear population has been increasing in recent years. With food in the mountains decreasing, more are venturing into settled areas and there are several maulings and deaths each year.
On their bus out after a 1-0 win, US players seemed less interested in the bear. They donned headphones and waved back at about 50 local volunteers holding "GO USA!" signs at the exit.
Japan stave off Mexico comeback in extra-innings walkoff
Hosts Japan walked off in an extra-innings victory against Mexico on the second day of softball at the Tokyo Games, joining the United States at 2-0 in the standings.
Mexico twice tied the game, including in the seventh inning when Japan's ace Yukiko Ueno was three outs away from a complete game and second-straight winning start before a dropped ball by her center fielder let in a run.
Japan reliever Miu Goto managed to escape loaded bases without surrendering a run in the top of the eighth, setting team mate Mana Atsumi to then drive in Eri Yamada for the 3-2 win in the bottom half.
Yamada started at second base under extra-innings rules.
Japan's win came after US pitcher Monica Abbott dominated from the start to lead her team to a 1-0 victory over Canada.
For seven innings, Canadian batters chased pitches off the plate and failed to make contact on 116 km per hour (72 mile per hour) tosses from one of the game's fastest throwers and a five-time Japanese league most valuable player.
Abbott returned to the same spot on the bench with toothful grin after her first six dazzling frames. She towelled sweat off her arms, placed a cold pack on the back of her neck and sipped fluids from her pink water bottle. The routine paid off.
Abbott struck out nine in all and gave up one hit. After recording the game's final out, the 1.91-metre (6-foot, 3-inch) left-hander wrapped her arms around catcher Aubree Munro.
"For us to hold down a tough offence and let the defence work, it felt really good," Munro said afterwards.
US center fielder Haylie McCleney scored the lone run after getting on base with a bloop single.
McCleney also threw out pinch runner Joey Lye to prevent her from scoring on a Sara Groenewegen double to right center.
The second of five days of round-robin play leaves Canada and Mexico at 1-1. The top four out of six teams advance to medal games.
A few minutes of drizzle in the first innings of Japan's game forced players to rush gear under tents. Play was not stopped.
Italy take on Australia later. The action breaks on Friday for the opening ceremony of the Games.