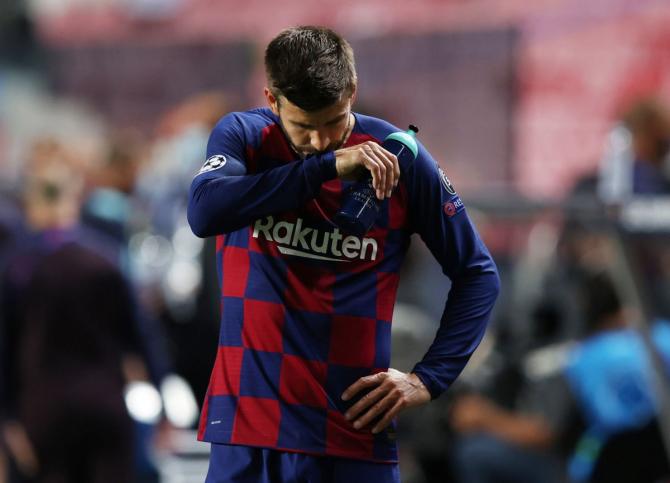 Barcelona were dished out a severe humiliation at the hands of Bayern Munich, losing 8-2 in the Champions League quarter-final on Friday, and the reactions of players from both teams reflected the story of the night.
Here is how some Barca and Bayern players reacted to the result.
Barcelona defender Gerard Pique said radical changes were needed from top to bottom:
"We feel devastated, although shame is the real word I'm looking for. We cannot afford to compete like this because it's not the first, the second or the third time that something like this has happened," a tearful Pique told reporters after the quarter-final drubbing, their worst ever result in Europe.
"This is very painful but I hope it serves some purpose."
"We all need to reflect deeply, the club needs lots of changes, I'm not talking about the coach, players - I don't want to point the finger at anyone but the club needs changes on a structural level," he said.
"If new blood needs to come for the club to change course then I'm not untouchable and I'll be the first to leave if needs be, because it seems as if we've hit rock bottom.
"We all have to reflect about what is the best thing for the club and for Barca."
Barca coach Quique Setien, whose head could be under the chopping block after the debacle said:
"I'm not going to go into all that as I've only been here for six months but seeing as this is Pique, surely some of what he said is true," said the coach.
"Right now we feel enormous frustration and all we can do is make conclusions and think about the future. Barca is a club that is so great that this will cause us a lot of damage and obviously some things will have to change.
"The truth is this is a tremendously painful defeat."
"This defeat has hurt me a lot. It's such an overwhelming defeat and I'm not just worried about my future, I'm thinking about what an awful defeat this is for the club and for the fans."
"But right now is a time to reflect, not to make decisions in the heat of the moment. Above all, we want to apologise to all Barcelona fans for this heavy result."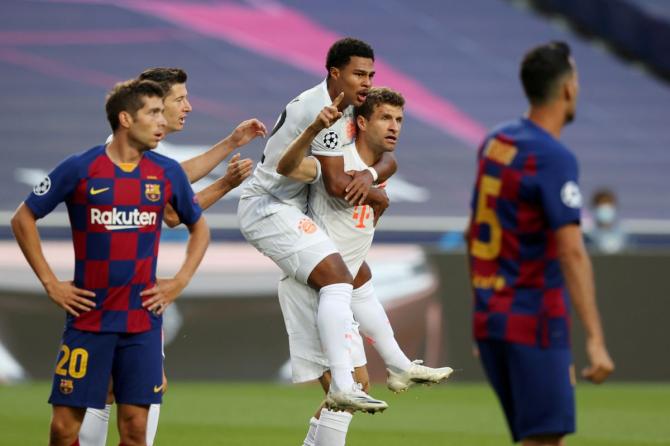 Barcelona midfielder Frenkie de Jong: "I think today showed that we have a lot of problems in the team. I think tonight showed that and we know we have to make a lot of changes. It's difficult for the fans to take too. So sorry to them. We have to change a lot of things I think."
"We believed we could beat Bayern. The first 15-20 minutes because they scored early but we scored the equaliser and had two good chances so believed in it of course. You could see that at the beginning. But they were much better than us. I don't think it's too much about talent, I think it's about putting in intensity and hard work and we need to change these things," he added.
Bayern's Thomas Muller, who scored two goals in the match to become the only player in the Champions League to have scored six times against Barcelona, said: "We had so much fun today. Of course, Barcelona are special, so we had to be even more aggressive and come back again and again. When they press and dribble, it's not a problem. When we get the ball, we have so much talent in attack," Mueller said.
"You can imagine we feel good after this match but we have to be quiet and regenerate. Tomorrow morning, we will wake up and answer messages on our phone from home and the whole world. Then we have to focus on the next game. We are here to win the final."
Bayern Munich's goalkeeper Manuel Neuer said: "I'm a little sorry for Marc-Andre Ter Stegen that he conceded so many goals. It's good for us, of course, but you wouldn't wish that to any teammate from the national team."
"You could see that we didn't let up for even a minute and that we always wanted to keep playing forward. Of course, Barca is also strong offensively. We know that goals can come. We tried to play towards Barca's goal until the very end. Accordingly, we were successful," he added.