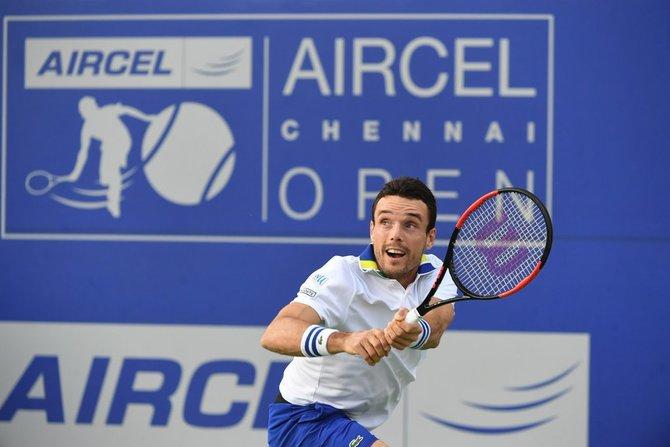 Spain's Roberto Bautista Agut has withdrawn from the Davis Cup Finals after the death of his father on Thursday.
Bautista Agut played in Spain's victories over Russia and Croatia but left the team and returned to Castellon after the health of his father Joaquin deteriorated.
Bautista Agut, who reached this year's Wimbledon semi-finals, lost his mother suddenly in 2018.
Hosts Spain play Argentina on Friday at Madrid's La Caja Magica for a place in the semi-finals.
Feliciano Lopez, Marcel Granollers and Pablo Carreno Busta are Spain's other options to share the singles load with world number one Rafael Nadal.
Hurting Hewitt pans Davis Cup scheduling after Australia eliminated
Australia captain Lleyton Hewitt criticised the scheduling at the revamped Davis Cup Finals after his team lost 2-1 to Canada in the quarter-finals on Thursday.
Australia, playing their third match in successive nights, lost Nick Kyrgios to a collarbone injury before the quarter-final and faced a Canadian team who has a day off on Wednesday.
"The scheduling is a big problem," twice Grand Slam champion Hewitt told reporters.
"You know, for us to have had to play these three nights in a row, it's not ideal.
"Yeah, I understand it's the first time and you're going to have hiccups and you've got to learn from it. But there's been a lot of small problems, that's for sure."
After a two-month break, Kyrgios had been in fine form in Madrid, bashing down 22 aces in a straight sets victory over Steve Darcis late on Wednesday to help Australia beat Belgium and reach the last eight.
But the 24-year-old pulled up sore on Thursday and was replaced by Jordan Thompson, who lost in straight sets to Vasek Pospisil in the opening singles rubber.
"I think (the injury) was similar to what he had at Laver Cup time," Hewitt said of Kyrgios's collarbone problem.
"That's just the way the cards fell. It's been pretty tough I guess trotting back out the last three nights as well.
"To Johnny's credit, he went out there and left it all out on the court."
Hewitt has been a vocal critic of the revamp of the 119-year-old tournament that originally had home and away ties played throughout the year.
Defeat, however, was no less difficult for the 38-year-old, who holds Australia's record for Davis Cup ties and wins as a player.
"I think in any kind of format that I've ever seen anyone play for their country, they go out there and leave it all out there," he said.
"The format changed but we still came here to give absolutely everything we could, and we did that.
"So, yeah, we're all hurting at the moment. But it just shows that it means something, which is good."
American Opelka calls ATP Cup 'pathetic'
American number three Reilly Opelka signed off from the Davis Cup Finals by firing a shot at the looming ATP Cup, describing the team event in Australia as "pathetic".
US hopes of reaching the quarter-finals of the revamped Davis Cup ended despite a 2-1 Group F victory over Italy in which the doubles rubber concluded at 4am.
The new-look Davis Cup, replacing the old World Group format with an 18-nation seven-day showdown in Madrid, has split opinion and the 24-nation ATP Cup, taking place six weeks later, is seen as a rival competition.
"Well, the ATP Cup is pathetic. I think it's shocking on behalf of the ATP for them to pass that and allow that," Opelka told reporters. "It's pretty embarrassing, actually.
"It's pretty bad for the sport. It makes it more top-heavy than it already is."
With only two singles players from any country permitted, Opelka says the ATP Cup should not carry ranking points.
"For example, I'm (36) in the world. I'm not going to play because I'm the second or third-highest ranked American, and only the top two guys play," he said.
The teams that participate in the Cup are determined by the singles ranking of their best player. For a country to qualify, it must have at least three players with ATP rankings, and two of them with singles ranking.
Opelka pointed out that those competing in the ATP Cup will get an additional tournament to help their ranking.
"It's unfair, there's not equal opportunity for everyone," he said. "For example, Moldova qualified. I mean, their No. 1 player is ranked pretty far behind me and their No. 2 player I don't think he's ranked.
"So that's going to make for an 0-0 match that's going to be 30 minutes maybe. That's not good for the sport."