Barcelona confirmed that Manchester City striker Sergio Aguero will join the club on 1 July when his contract with the Premier League champions expires.
Argentina international Aguero joined City from Spanish side Atletico Madrid in 2011 and went on to become the club's all-time leading goalscorer, netting 260 times as he helped them to claim five Premier League titles.
"Barcelona are the best team in the world," Aguero, who celebrates his 33rd birthday on Wednesday, told a news conference. "And we all know it."
"It was a good decision to join and help the team achieve things. It's another step and I'm very happy. I hope I can contribute a lot to the club."
"The first thing is to try and play and help the team as much as I can. We are a team, and I will try my best. Hopefully we can get to the end of the season and be in contention for the important trophies."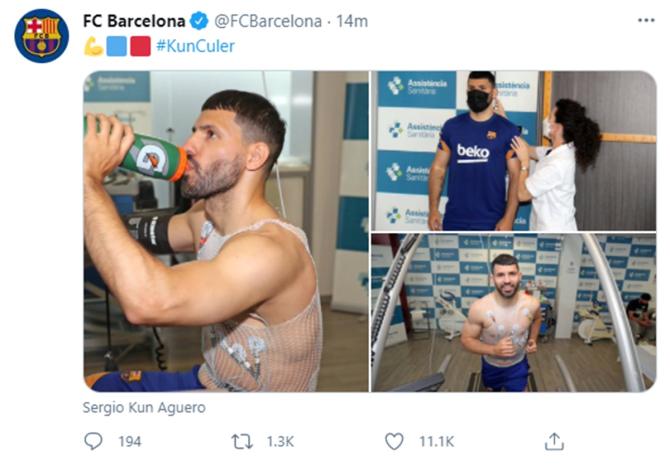 Barca said the Argentine will sign a two-year deal, with a 100 million euro ($122.04 million) buy-out clause.
Aguero is expected to be the first of a number of arrivals at Camp Nou this summer as new president Joan Laporta looks to revamp a squad that could only finish third in La Liga.
Aguero's City team mate Eric Garcia has been heavily linked as a transfer target by local media, as have Dutch duo Memphis Depay and Georginio Wijnaldum.
Hazard hopes to be ready for Euros, but not sure of fitness
Eden Hazard hopes to be ready to play for Belgium in their opening game of the European Championship but is still unsure whether he will be fit in time, the forward told a news conference on Monday.
The Belgium captain said he was mentally ready but physically still unsure after a season filled with injury.
"It has been a complicated year but I hope to be ready for the first game. I have to take it day by day and see how it goes with the medical staff," he said.
"I missed the last games of the season at Real Madrid, so I have had time to rest and so we'll see how it goes."
Hazard featured sparingly for Real Madrid this season because of an ongoing ankle problem and won the last of 106 caps for Belgium since November 2019.
"We will see at training over the next days before the Euros. We have some time before our first match and I want to ready for that one," he added.
Belgium, top of the FIFA rankings, kick off their campaign away against Russia in St Petersburg on June 12.
Hazard also said he expected to stay at Real Madrid next season, even after the departure of coach Zinedine Zidane and in the wake of media speculation over his future at the club.
"I don't see myself leaving, I still have three more years left in my contract, we know that my first year was bad because of the injury," he said.
"I know myself and that if I'm ready to play and fully fit, I can do great things for the club. After the Euros, my plan is to do everything for this club."
More time needed for clarity on De Bruyne injury
Kevin de Bruyne's participation in the European Championship will only become clearer in the next four to five days, said Belgium coach Roberto Martinez two days after his star player suffered a double face fracture.
Martinez told a news conference on Monday it was too early to be sure whether the 29-year midfield talisman could play in the tournament, where Belgium kick off their campaign against Russia on June 12.
De Bruyne fractured his nose and a bone around his left eye socket in Saturday's Champions League final playing for Manchester City in their 1-0 defeat by Chelsea.
"Kevin had a different programme to the rest of the players, he was only going to join us seven days later because he was playing in the Champions League final," Martinez said.
"But that programme has obviously been changed, he won't be able to relax and rest just yet."
Martinez said De Bruyne faced a series of hospital tests, returning first to Manchester before joining up with the Belgian side.
"We've got to be very cautious, and we will get more clarity in the next days, but I've spoken to Kevin and he was quite positive," the Spanish coach added.
"We are very fortunate that even though he has a double fracture, he doesn't need surgery. An operation would have made it impossible for him to play in the European Championship."
"We don't know if we can use him in the first game. I cannot give an answer because I don't have any medical facts right now, we are still assessing the injury and over the next four to five days we expect clarity. Then we will know what the next steps for Kevin will be," Martinez added.