Players need more protection, says Barca coach Koeman after resting Messi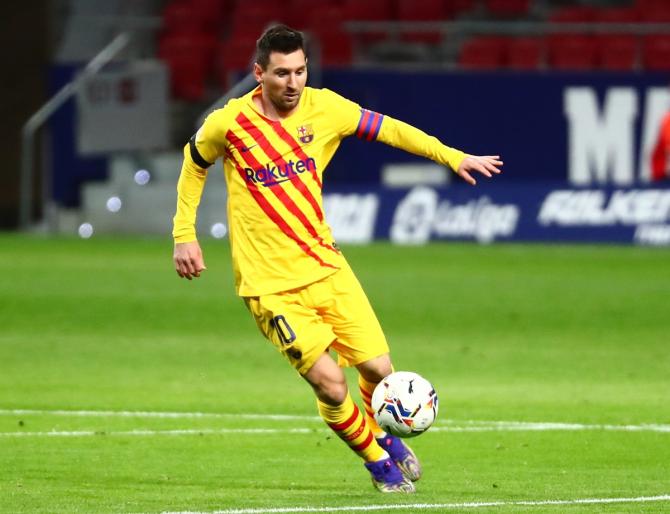 Barcelona coach Ronald Koeman has joined other managers in lashing out at the packed European football calendar after deciding to rest Lionel Messi for Tuesday's Champions League trip to Dynamo Kyiv.
Barca lost Gerard Pique and Sergi Roberto to serious injuries in Saturday's 1-0 defeat by Atletico Madrid in La Liga, leaving them with only three defenders in the first team squad for the trip to Ukraine.
While the loss to Atletico sealed their worst start to a La Liga season in 29 years, Barca are flying high in Europe with three wins out of three in Group G and victory against Dynamo will clinch their place in the last 16.
Koeman said his side's strong position in Group G was behind him resting Messi and Dutch midfielder Frenkie De Jong but he also took a swipe at the unforgiving football schedule, saying global organiser FIFA and European counterpart UEFA should take action.
"Sometimes you need to protect the players because the game calendar is incredible," Koeman told a virtual news conference on Monday.
"We thought it was a good moment to rest Leo and Frenkie as most of our players have played every minute with us and then they played with the national teams and Messi had a difficult trip back from South America (after playing for Argentina)."
The gruelling European schedule, which has been further squeezed by the COVID-19 pandemic, has come under renewed scrutiny recently due to mounting injuries.
Liverpool coach Juergen Klopp took aim at broadcasters Sky and BT on Sunday over match scheduling, while Real Madrid coach Zinedine Zidane also said there were too many games.
"It's impossible to keep the players fit," added Koeman.
"Look at the example of Sergi Roberto, the reason he got injured was because of playing too many games. Everybody knows this but still we need to continue to play this number of games, it's incredible.
"It's time for UEFA, FIFA to think about what they are doing to footballers, the amount of games they need to play is crazy."
Koeman added that 21-year-old defender Oscar Mingueza could be handed his Barca debut against Dynamo due to the team's lack of options at the back, with Samuel Umtiti and Ronald Araujo still carrying injuries.
Klopp blasts broadcasters over hectic match schedule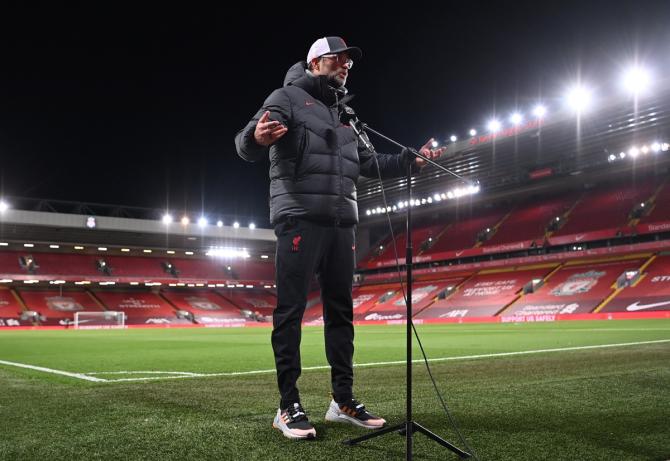 Liverpool boss Juergen Klopp slammed British broadcasters Sky and BT on Sunday over match scheduling that he says is leading to more player injuries.
Asked by Sky Sports why he waited until the 89th minute of his side's 3-0 win over Leicester City to make two of his three substitutions, Klopp launched a broadside about the frequency of games.
"Why we change late is because we constantly have to think that somebody will go down with an injury. We cannot change early, because we change early and the other one has an injury, and you end the game with nine players," Klopp said.
"It's about all the players, it's about the England players, it's about all the players who will play the European Championship next summer - if you (Sky) don't start talking to BT, we're done."
The COVID-19 pandemic caused the previous season to finish late and the current campaign to be condensed into a shorter period.
The 53-year-old German believes that the scheduling of Champions League matches, which are broadcast by BT, and the Premier League, which is broadcast by Sky and BT, is putting a strain on players and causing injuries.
"If we keep playing Wednesday and Saturday at 1230, I'm not sure if you'll finish the season with 11 players. All the top six are the same, but I know you (the broadcasters) don't care, and that's the problem," Klopp told Sky.
Reuters has contacted Sky and BT for comment.
Already missing a slew of players to injury, including influential centre backs Virgil van Dijk and Joe Gomez and midfielders Jordan Henderson and Thiago Alcantara, Klopp suffered another blow when Naby Keita had to be replaced in the 53rd minute against Leicester.
"People tell us we can rotate - who? We have offensive players, the rest are kids. That's how it is. It's all OK, we fight with what we have, but if you (broadcasters) do not start talking, you will see what happens," he said.
"We cannot change 10, 11 positions, that's not possible. We can't only show up, we have to win the football games."
Klopp said that the pandemic had forced football into making many changes over the last few months and dismissed suggestions that it would be difficult to adjust the schedule to give squads more time to recuperate.
"It's really difficult for the players, that's what is difficult - the rest is just a decision on a desk in an office," he said.