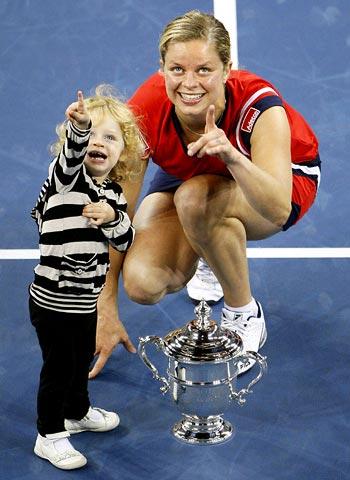 Kim Clijsters' lookalike sports the same tennis kit, golden hair and blue racquet as the US Open champion but her backhand is somewhat stiffer.
That's because she is a doll -- the first Barbie to commemorate a female athlete, unveiled at the world's largest toy fair in the German city of Nuremberg on Wednesday.
Clijsters, 26, was hailed as the poster girl for working mums around the world last year when she became the first mother to win a Grand Slam singles title since Evonne Goolagong triumphed at Wimbledon in 1980.
Mattel MAT.N, the world's No. 1 toymaker, said it also unveiled a doll of Clijsters' daughter Jada, sporting the same outfit she wore for the US Open finals.
"I am...deeply honoured and humbled as I today join the ranks of iconic women who represent Barbie's aspirational value," the Belgian former world number one said in a statement.
"My family means everything to me, so I was really excited when I found out that Jada would also received her very own Jada Barbie doll."
Mattel, which last year celebrated the 50th anniversary of the Barbie doll with a string of glamorous parties, also unveiled dolls representing the heiress to Sweden's throne, Crown Princess Victoria, and Harry Potter author JK Rowling.