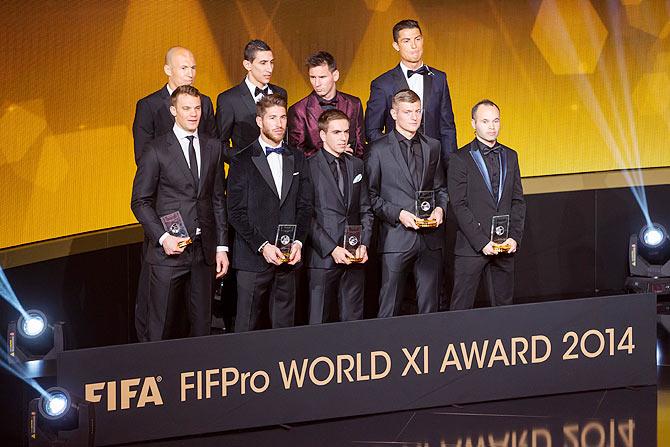 The FIFA FIFPro World XI for 2014 receive their awards during the FIFA Ballon d'Or Gala 2014 at the Kongresshaus in Zurich. Photograph: Philipp Schmidli/Getty Images
Star footballers Lionel Messi, Manuel Neuer and Cristiano Ronaldo, who had been shortlisted for the FIFA Ballon d'Or award, have been selected by their peers for the 2014 FIFPro World XI team.
Messi, Neuer and Ronaldo were among seven 2013 team members who retained their places in worldwide voting by 23,000 members of national players' unions.
Germany's World Cup-winning captain Philipp Lahm, Brazil captain Thiago Silva, and Spain pair Sergio Ramos and Andres Iniesta also stayed in the elite lineup, Stuff.co.nz reported.
David Luiz was the surprise entry in the elite squad as he was voted into the defense despite playing in Brazil's 7-1 rout by Germany in the World Cup semifinals.
Arjen Robben was picked as the only player from Netherlands squad, which started the World Cup by routing titleholder Spain 5-1.
Messi was also joined in the elite squad by another Argentine, Angel Di Maria.
Toni Kroos completed the lineup as the third Germany player, and the fourth who played for Bayern Munich last year.
Brazil failed to get a third player elected as there was again no place for Neymar. The star forward lost out to Robben in a three-man attack with Messi and Ronaldo, one year after Zlatan Ibrahimovic was the third forward elected.
The other 2013-team members who lost their places were Dani Alves, Xavi Hernandez and Franck Ribery.
The FIFPro World XI 2014 squad: Manuel Neuer, Philipp Lahm, Thiago Silva, David Luiz, Sergio Ramos, Angel Di Maria, Toni Kroos, Andres Iniesta, Cristiano Ronaldo, Lionel Messi, Arjen Robben.